TransPennine Express (TPE) is urging customers to plan ahead, with further industrial action set to cause major disruption to rail services this September and October.
Drivers from the ASLEF union are set to take action on Saturday 30 September and Wednesday 4 October, which will bring TPE service to a halt.
Kathryn O'Brien, Customer Service and Operations Director at TPE, said: "Unfortunately, the further strike action will once again, cause severe disruption to our services, as well as those across the country.
"Sadly, we won't be able to run any trains at all on the strike dates, with a very limited timetable in place on the days following each strike."
There will also be action short of a strike by the ASLEF union on Friday 29 September and between Monday 2 October and Friday 6 October which is expected to cause disruption to TPE's service.
Kathryn added: "We expect the action short of a strike to cause widespread disruption, delays and short-notice cancellations. I would advise customers to check very carefully before they travel and to allow extra time for any journeys.
"We're extremely sorry for the impact this action will have for our customers and will do all we can to keep as many people on the move as possible."
For more information about the strike and the services that will be affected, customers should visit: www.tpexpress.co.uk/travel-updates/strike-action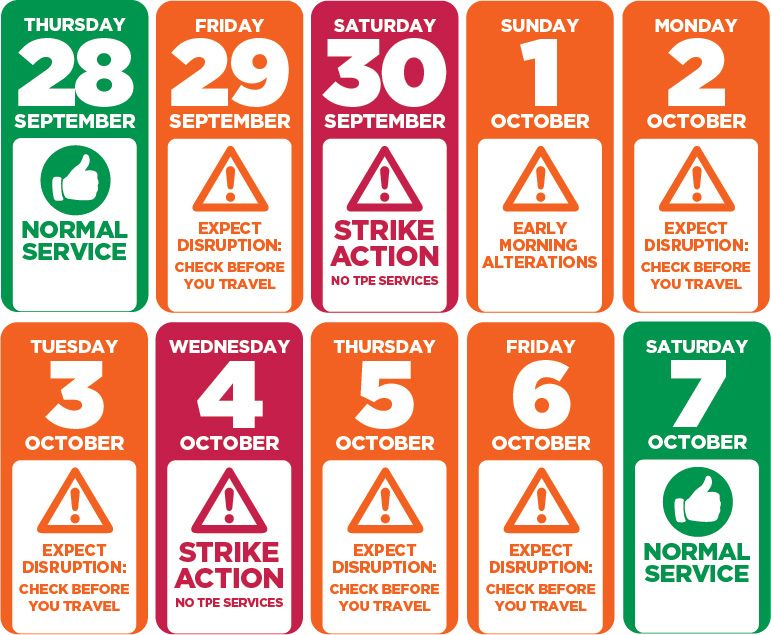 Image credit: TPE