Govia Thameslink Railway (GTR) has pledged its support to the Forces Community by signing the Armed Forces Covenant. The agreement will support Armed Forces leavers back into employment and ensure that those who serve, or who have served in the Forces, are treated fairly in the workplace.
To demonstrate commitment to being a 'Forces-friendly' employer, GTR will bolster its diversity and inclusion policies to include the following:
Targeted employment support for veterans by working with the Career Transition Partnership – the official provider of resettlement, which has supported Armed Forces leavers to civilian life for over 20 years
Help for Forces spouses and partners, utilising the Forces Families Jobs Forum
Support for colleagues who are members of the Reserve Forces, granting additional leave for duties and helping to facilitate potential mobilisations or deployment
Identifying colleagues who volunteer in military cadet organisations and offering leave where required, plus encouraging colleagues to consider becoming volunteers
Veterans and reservists bring a variety of transferable skills and qualities to the civilian workplace, developed throughout their military careers. The railway has a longstanding history with the military, dating as far back as the 1800s and GTR already benefits from a wealth of military experience, with ex-Forces personnel taking up wide-ranging roles in the business – from train driving and station management, to network operations and engineering.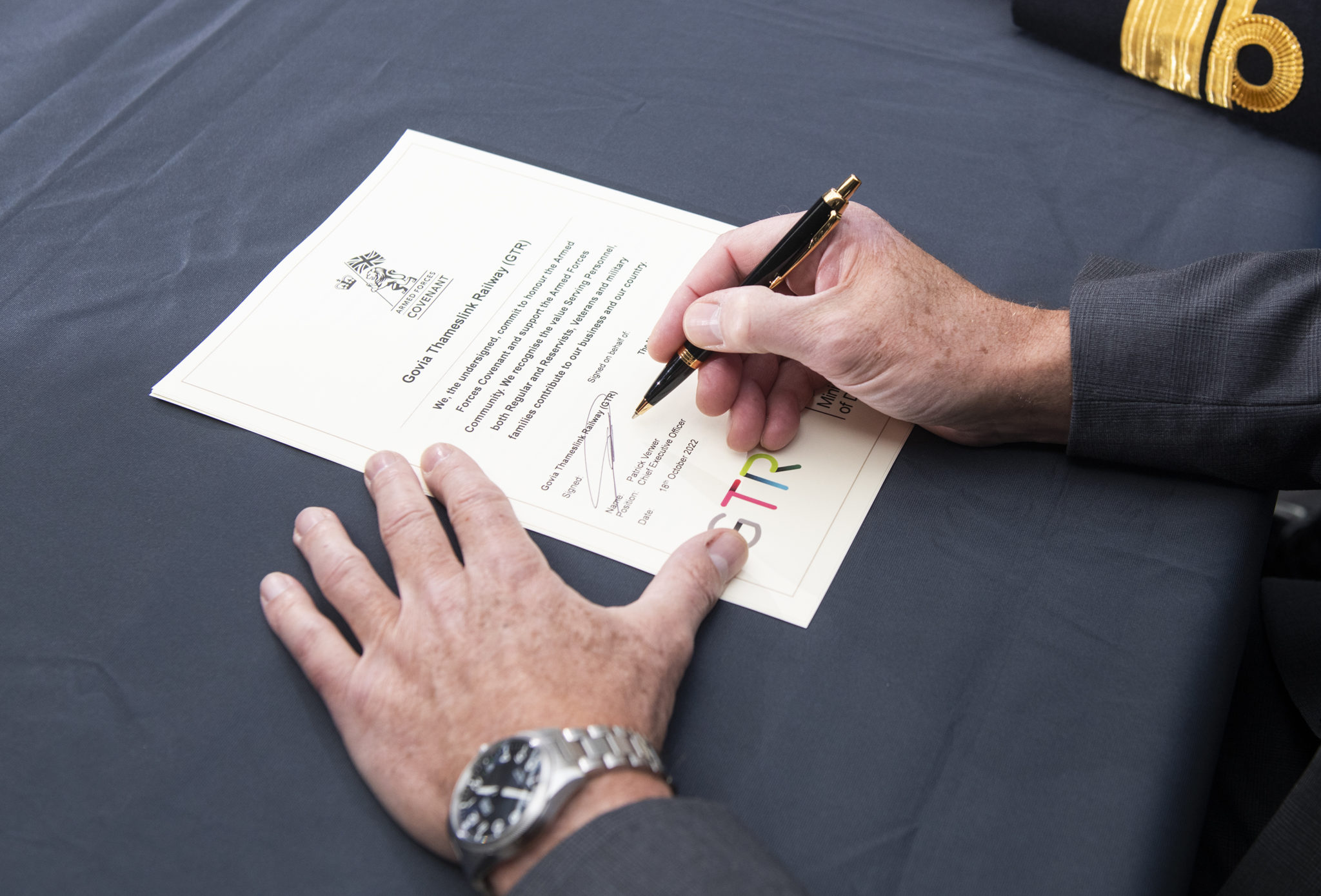 Patrick Verwer, CEO of Govia Thameslink Railway, commented on the new agreement: "We recognise the great value that serving personnel, reservists, veterans and military families bring to our business and to our country. We're committed to attracting and retaining the best talent and signing the Armed Forces Covenant will help us welcome new colleagues to join the railway, whilst supporting the vibrant ex-Forces community who already work at GTR."
Rear Admiral Phil Hally CB MBE, Assistant Chief of the Defence Staff, added: "The primary goal of the Armed Forces Covenant is to help ensure that members of the Armed Forces Community have as much access to government and commercial services as any other citizen. We're pleased that Govia Thameslink Railway has signed the covenant to pledge its support to those who have served and are serving for our country."
To celebrate the signing of the covenant, GTR invited colleagues with military connections to a private event at London Bridge train station. The Armed Forces Covenant was signed by Patrick Verwer and Rear Admiral Phil Hally CB MBE.
Lorraine Weights, 65, currently works for Great Northern in the ticket office at Huntingdon station, but her career started out in the Women's Royal Army. She said: "I think it was destined that I would grow up to join the Forces. My grandfather served in the British Army, followed by my father, who then met my mother whilst they were both serving.
"I joined the Women's Royal Army Corps, as it was then known, and after a few years, met my husband. Back then, if you wanted to get married and have children, you have to leave the Army. You couldn't have a family and a career, you had to choose. It's great that GTR is signing the Armed Forces Covenant – I just wish something similar had existed when I was younger because I found it incredibly hard to find work as an Army wife."
After moving around for much of her life, Lorraine settled in Cambridgeshire and found a fulfilling career in rail, aged 44. She has worked in the railway for 21 years.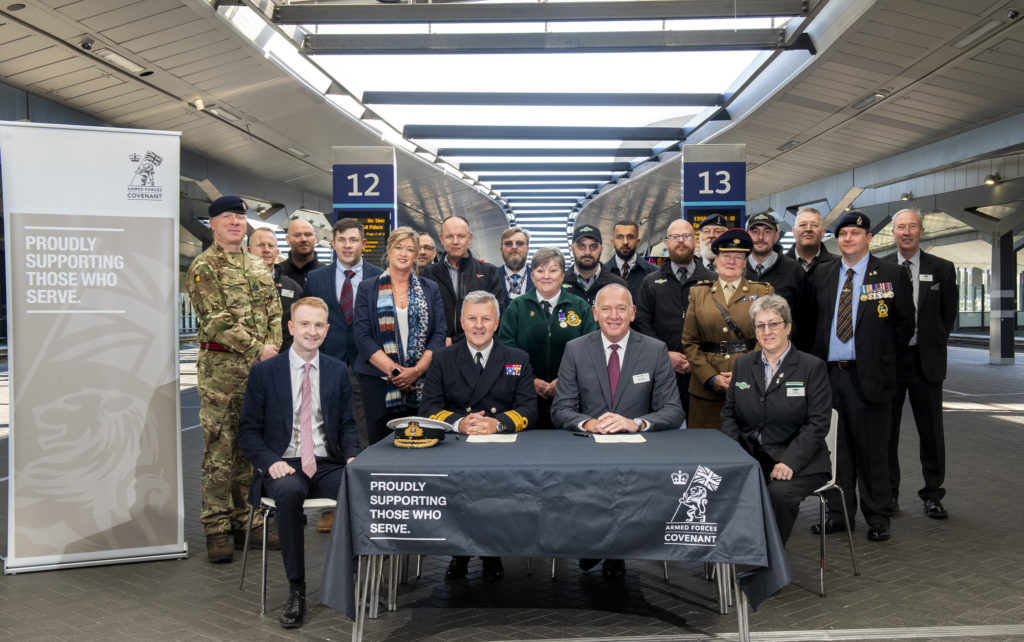 Carlton Brar-Beach, from West Sussex, was drawn to the Armed Forces after leaving school and finding it difficult to begin a meaningful career without relevant qualifications. He explained: "I didn't have a clear vision about my future, but I saw I could train to be an engineer with the British Army – and despite having no prior experience – they took me on and I started the trade from scratch aged 21.
"The Army was great in my twenties because not only was I learning, I was travelling all over the world. However, I reached a stage in my life where I wanted to settle down; and being on short notice to move at any time meant it was hard to do that."
Carlton, 32, swapped the Forces for a career in rail and is now a Production Manager for Southern Rail.
He added: "I love working in rail and I'm very proud of my Army career too. It's great that GTR is signing up to the Armed Forces Covenant to help people like myself make the transition into civvy street as it can be daunting at first and it's great to have the support of your employer."
Photo credit: GTR