The first day of the Railway Industry Association annual conference, being held online for the first time, was judged a success by its participants at the end of its first day (4 November 2020).
Welcoming attendees, RIA Chief Executive Darren Caplan (pictured above) presented the result of a recent poll, undertaken by independent analysts Savanta ComRes of more than 250 rail business leaders on the state of the industry. The picture was mixed, he stated, with 35% of business leaders saying the industry is likely to grow and 36% saying its likely to contract over the coming year.
Darren was adamant, though, on the need to 'Build Back Rail'. "We cannot allow the rail network to be neglected while we wait for passengers to return. Rail stands in a good place to help the UK's economic recovery", he said.
Message from London
The first keynote speaker was new Transport for London Commissioner Andy Byford, who began by saying how strange it was to join TfL as the Coronavirus pandemic hit.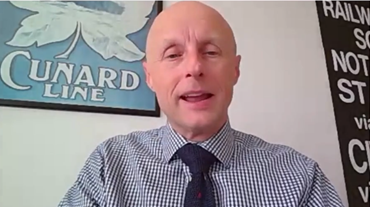 "It has certainly been the most surreal introduction to any job I have ever taken. We really are in very unusual territory", he said. He added that he came in with two key jobs to do, the first being to get TfL out of the Coronavirus pandemic and the second to get Crossrail completed.
Byford also heavily praised TfL staff and suppliers who were working to keep the rail system safe and clean. "Our strategy was built around making sure we deliver a safe, clean and controlled transit system" he said. He concluded by thanking both the Government and the Mayor for agreeing to a six month funding settlement for TfL, saying he'd like to see a future long term settlement, like Network Rail's Control Periods, for the transport authority.
Rolling stock strategy
The first panel of the conference focused on rolling stock and whether there was a need for a long term strategy for the sector. Compere Paul Clifton was joined by Sambit Banerjee of Siemens Mobility; Mary Grant of Porterbrook; Mark Hopwood of South Western Railway; Journalist and accessibility campaigner Mik Scarlet; Steve White of GTR; Susie Homan of Rail Delivery Group and Tim Jenkins of Gemini Rail Group.


The panellists covered a number of issues, including how we encourage passengers back, how we make rail services more accessible and open to all and how the sector achieves decarbonisation. They were split on whether the rolling stock sector should have a long term strategy, with Mary Grant highlighting the need for a long term plan for assets which have a thirty year life. Mark Hopwood however said greater flexibility was needed when it came to rolling stock, to ensure the industry was adaptable to changing passenger needs. At the end of the session, the audience had the chance to have their say – and 69% to 31%, they voted for a long term strategy for rolling stock.
Busy lunchtime
Over the lunchtime 'break', delegates had the opportunity to join a number of breakout sessions, including from London Transport Museum, Railtex / Infrarail and the Railway Benefit Fund, giving attendees the opportunity to catch up on each organisation's work.
Sessions were also live streamed from Rail Wellbeing LIVE, with tips from Carole Spiers and Dame Carol Black on ensuring we remain positive and mentally healthy during these difficult times.
Act Now!
The second panel of the day focused on the Rail Supply Group's 'Act Now' Report. Panel chair Philip Hoare (Chair of RSG) was joined by Anna Delvecchio of Mott MacDonald, Darren James of Keltbray Group, James Bain of Worldline, Hannah Vickers of the ACE and John Chappell of CPC Project Services, who is also Chair of RIA's SME Group.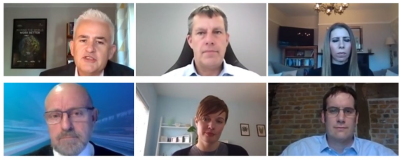 Philip Hoare began by setting out the RSG's latest 'Act Now' report, which focuses on key areas the rail industry can accelerate as part of the Rail Sector Deal in response to the Coronavirus pandemic, specifically: 1. Work pipeline and visibility; 2. Better & simplified access to data for customers; and 3. Access to the railway
Darren James, the Champion for the Sustainability Pillar in the Rail Sector Deal said that "visibility of pipeline is very, very important." whilst Delvecchio stated that "our aim is a call to action for how we can improve access and possession in the railways."
Meanwhile, James Bain urged greater openess in data as part of the Deal, with John Chappell highlighting concerns for SMEs identified in recent polling, particularly around access to procurement and relevant market infomation. And Hannah Vickers, who joined the panel as a representative of the Construction Leadership Council – a similar body to RSG – gave her experience working on the Construction Sector Deal, and urged rail to work with other industries.
High-speed update
The final session of the day saw HS2 Ltd Chief Executive Mark Thurston sit down for a one-to-one conversation with Paul Clifton.
Thurston was first asked what Coronavirus meant for the project. Phase 1 will finish in ten years time, and Thurston said the long-term strategic case for it has not changed. The project will also create economic growth and jobs for the UK now, so can support the economic recovery, he added.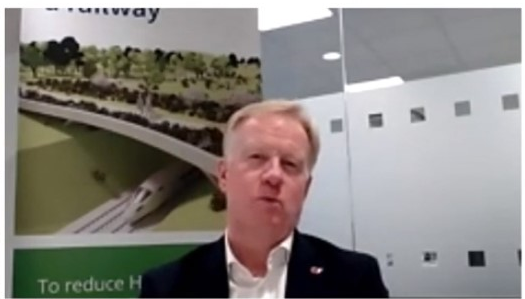 He also praised the support from the rail industry for the HS2 programme and encouraged RIA Members to continue to work with them and Government to promote the scheme. He had three recommendations when asked what he'd recommend for the Chief Executive of the next major UK project – you have to believe in it yourself, stay true to your beliefs and hold your nerve. "It is a real personal test", he added.
As the first day drew to a successful close, delegates still had two more days of the conference ahead of them.