The Heritage Railway Association (HRA) is backing Community Rail Network's 'Days Out by Rail' campaign to encourage more day trippers to leave the car at home and take the train, well two trains in fact, for an educational and fun filled day out at one of the many Heritage Railways accessible from the main line.
The idea, to use community railways to travel to one of the 32 heritage railway lines connected to the national network or have an interchange with it*, is part of a wider national awareness campaign to highlight green, scenic leisure travel by rail.
The eight-week initiative being led by Community Rail Network's tourism arm, Scenic Rail Britain, is raising awareness about rail as one of the greenest ways to travel – especially combined with walking, cycling and buses – avoiding traffic jams and parking and making the journey part of the experience.
HRA CEO, Steve Oates said: "Days Out by Rail may sound familiar for those of us of a certain age who remember as a child setting off for a day out on the train with the family Rover Ticket or Away Day special on the Intercity 125. Updating the idea of Days Out by Rail not only encourages travel but, this time, sustainable travel. What better way to enjoy the UK rail network through the ages in one day, travelling from a local station on the national network to link up with a heritage line?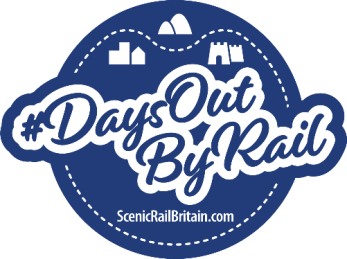 "It is definitely much more relaxing that being behind the wheel in a traffic jam on your way to a tourist attraction.
"Taking a train to one of the Heritage lines is not only double the railway fun but a more sustainable way to visit one of our member railways. While heritage steam railways still use a very small amount of coal, they run through some of the greenest tourist miles in the country, keeping far more polluting cars off rural roads, producing a very small 0.023% of total UK carbon emissions although we continue to be very focussed on finding ways to reduce this further."
Jools Townsend, chief executive of Community Rail Network said: "Many people don't realise the scope for seeing Britain's stunning landscapes, pretty villages and historic sites by rail. Using a community rail line to visit a heritage railway makes for a delightful day out for all the family.
Our Days Out by Rail campaign is all about drawing on the local knowledge and insights from the community rail movement, and sharing that with families, day-trippers and holidaymakers. We're proud to work with the Heritage Railway Association to help inspire more people to explore our beautiful countryside and fascinating heritage through green and scenic journeys by rail."
Visitors can jump on board the campaign and enjoy a full day out by rail, using some of these routes for inspiration. Those wanting scenic landscapes would be wise to try out The Bentham Line (Leeds to Morecambe), boasting views of Pennine peaks, and the Yorkshire Dales. Leave the train at Keighley for an easy connection to Keighley & Worth Valley Railway, taking you onwards to Oxenhope through the charming filming location of The Railway Children and towards Bronte country.
Another route ideal for a two train day trip is the North Norfolk Railway. Join the Bittern Line at Norwich and enjoy travelling from city to coast through the pictorial landscapes of the Broads National Park before reaching Sheringham. Here join the historic North Norfolk Railway for a steam train trip through the county's most stunning coastal scenery as you make your way to the Georgian town of Holt.
Meanwhile the Derwent Valley Line provides easy access to Derwent Valley Mills World Heritage Site, the historic cable cars at Matlock Bath and the quaint Ecclesbourne Valley Railway, meandering along 9 miles of beautiful unspoilt Derbyshire countryside.
With all routes, including heritage railways, advance booking is recommended.
Photo credit: The Heritage Railway Association