The UK has committed to reduce carbon emissions to net-zero by 2050 and rail travel will play a significant role on that journey. Decarbonisation is high on the industry's agenda and although 2050 is a generation away, any decisions made today will have a direct impact on the UK's ability to meet its target in the most cost-effective way.
The abandonment of the rail franchising system, technological progress and the declining costs of renewables mean that green power can now be coupled with innovation and investment. In some respects, franchising acted as a barrier to innovation, with Train Operating Companies (TOCs) reluctant to make long-term investments because of relatively short-term contracts.
Bridging the gap
Electrification will play an important role in decarbonisation, but progress is slow and the government continues to have concerns around cost. So what other solutions can be implemented?
Driver Advisory Systems (DAS) are recognised as a means of optimising the performance of trains to reduce energy consumption. There are many systems on the market, but their varying degrees of sophistication affect the level of optimisation. DAS has evolved significantly over the years, with a distinction between connected (C-DAS) systems and stand-alone (S-DAS). The latter is less sophisticated, working only on the pre-planned timetable; the advice it gives might therefore not be useful if, for some reason, the train's planned path is unavailable.
Drivers' situational awareness is limited to the process of driving their own train. They are able to perceive the state of their train and the track ahead within their vision. They know how this information affects the train so they can decide how to apply engine power and brakes in order to reach a certain speed and deliver a smooth, comfortable ride.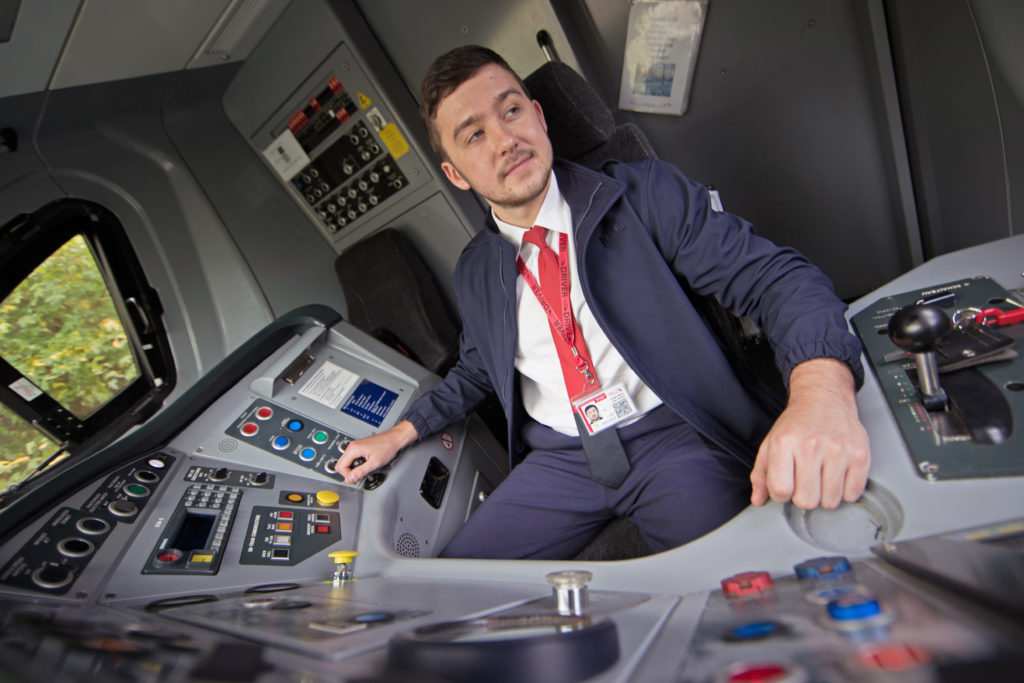 However, train drivers lack situational awareness about the traffic situation. This is true even with a stand-alone DAS fitted, due to the fact that S-DAS runs off static information, meaning train drivers' only sources of input are predefined timetables and signal states. Based on this, they can only assume that everything is running according to plan. As soon as the situation deviates – which is a regular occurrence on a complex and dynamic network – drivers make decisions based on out-of-date information and their driving becomes suboptimal.
A complete picture
Connected Driver Advisory Systems (C-DAS) allow train drivers to gain a complete picture of current conditions, understanding changes in the traffic situation and operational plans due to the system's real-time data feeds and constant recalculation of the driving profile, taking into consideration the external elements affecting the train's route. Thus, drivers' situational awareness is more comprehensive and they can therefore adapt to an optimal driving profile.
KeTech has designed an award-winning C-DAS, developed through dialogue with both drivers and operators to identify the real requirements needed to deliver success. Digitising the whole network so that the system will know the track layouts, gradients, linespeeds, speed restrictions, curvature, electrified lines, junction details, platform numbers and lengths, and level crossings is not an easy job.
Infrastructure sources for the UK's railway are disjointed; this meant KeTech had a challenge on its hands. The company pulled together disparate information to create a secret database of the network. Its software architects and train simulation expert joined forces to understand train characteristics and craft the algorithms to integrate the real-time data.
This is all essential to create a truly situationally-aware system that is as dynamic as the railway. KeTech's C-DAS provides specific driving advice, indicating recommended speed and advice about braking or coasting. Ensuring the right balance of detail in the advice is crucial to avoid additional mental workload for drivers.
From product benefits to the installation of C-DAS, this versatile system helps us towards reduced carbon emissions in more ways than one. It can be especially environmentally beneficial for trains relying on friction brakes – such as freight – due to the energy-saving speed profiles that seek to minimise energy loss through braking; in turn, maintenance savings will be made as a result of reduced brake wear and tear.
More money spent on retrofitting means less money spent on energy: investment rather than consumption. KeTech's C-DAS is scalable and modular; it has been designed for flexible deployment. It can be delivered as an integrated system; it can be displayed on an iPad, smartphone or existing hardware in the cab. It is not off-the-shelf; the software offers a myriad of personalisation possibilities.
KeTech created the system with retrofitting in mind, to repurpose perfectly good hardware, minimise installation time and save money.
Overcoming obstacles
When KeTech presents C-DAS, it is often met with the question "doesn't it need to sit under a Traffic Management System?" Not if you design it right and make it future-proof.
The ultimate goal is for C-DAS to sit under a TMS so that the replanning of train movements can be immediately interpreted for advisory system displays. But the rollout of TMS is some way off and will not be fully deployed in the UK for many years; however, when it is available, KeTech's C-DAS will seamlessly switch from non-TMS to TMS routes.
KeTech has created a system that allows collaboration between human and algorithm, giving drivers important guidance towards a more effective way of driving and ultimately a greener railway, driven by data. Implementing C-DAS will further help us reach the goal of zero carbon by 2050 whilst improving passenger confidence.
Lead photo credit: Cold Snow Storm