Network Rail completes major project to fully refurbish the lifts at Derby station
Lift at Pride Park entrance reopened today (Thursday 1 April)
Lift at main entrance reopened for passengers in November
Passengers urged to continue following government guidance and keep journeys to a minimum
As restrictions ease after lockdown and passengers return to the railway, they can now benefit from more modern, reliable lifts at Derby station.
Major work on a £750,000 project to fully refurbish them began in September 2020. Network Rail teams have installed modern equipment to make them more reliable. They are also nicer for passengers to use and require less maintenance.
The work was carried out in stages to minimise any disruption for people using the station. This meant the lift at the main entrance could reopen in November before work began in January to revamp the one at the Pride Park entrance.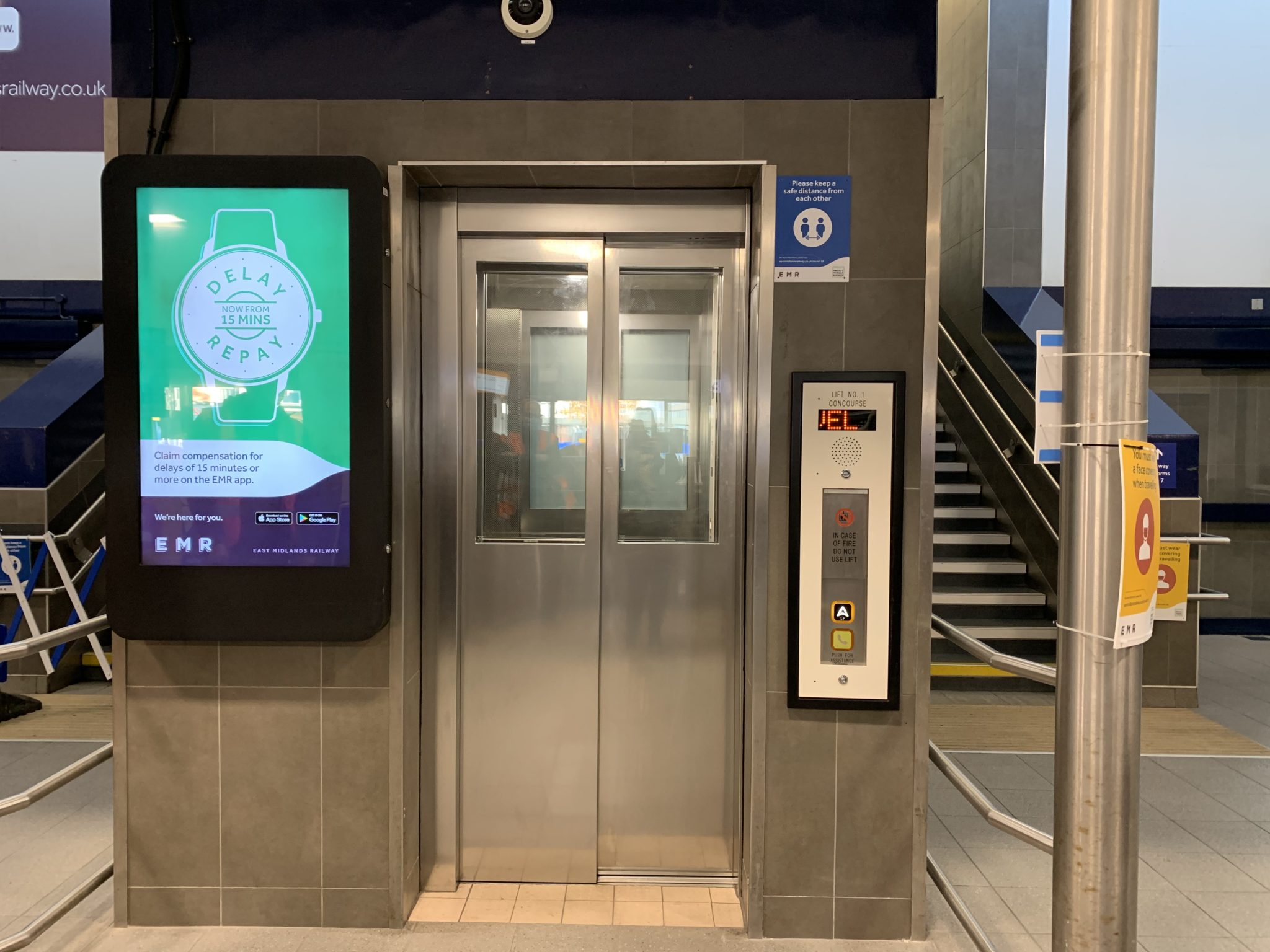 During this time, free taxis were also available for people who required step-free access to get from one entrance to the other.
Additional work has taken place during lockdown to clean the station canopies and drainage. With fewer passengers travelling, teams have also resurfaced the car park and platform 1.
Gary Walsh, Route Director for Network Rail's East Midlands route, said: "This major work to improve the lifts at Derby station means they are more reliable for passengers, making it easier for them to access the platforms.
"We carefully planned this project to make sure some of the lifts remained open whilst the others were out of action and we want to thank people for their patience.
"We've already seen the difference the lifts at the main entrance are making for passengers. As restrictions ease and people return to the railway, the work will improve the experience for those using the station for the months and years ahead."
Jason Cocker, Area Manager, Derby for EMR, said: "We're delighted that the final stage of the lift renewal project is now complete.
"We worked with Network Rail to keep disruption to a minimum and would like to thank our passengers for their patience whilst this work took place, both on the main entrance and the Pride Park entrance.
"We are looking forward to restrictions easing after lockdown so we can welcome passengers back to the railway, and any passengers that require step-free access can now benefit from the new, and more reliable lifts at Derby station."
Richard Morris, Regional Director East Midlands & East Anglia, CrossCountry, said "We are delighted that the work to upgrade the lifts at Derby has gone so smoothly. The alternative arrangements put in place by our colleagues at EMR and Network Rail meant that our customers were able to continue to access all of the platforms and passenger facilities at this important interchange station."
Photo credit: Network Rail