As 2022 ends, HS2 Ltd – the company building Britain's new high speed railway – is celebrating a momentous list of milestone achievements over the past twelve months, including the launch of three more Tunnel Boring Machines, ten of our construction sites going completely diesel-free, and a first tunnel breakthrough.
Major civil engineering works are now well underway, with £23 billion contracted into the supply chain and over 350 active sites between Crewe, the West Midlands and London, supporting over 29,000 jobs. There are five Tunnel Boring Machines currently digging underground; and two giant outdoor mega-factories, 1.7 miles of conveyer belts and a total of 17.6 km of tunnels have already been built as part of the delivery of HS2.
Rail Minister Huw Merriman said:
"HS2 has made extraordinary progress in the two months since I was appointed rail minister – smashing targets and achieving a number of world-beating construction milestones, which both myself and the Transport Secretary have had the pleasure of seeing first hand.
"This pioneering project is already transforming lives well before the trains hit the tracks, creating hundreds of thousands of jobs and boosting local communities by funding hundreds of transformational projects."
"Here's to a year of success and many more milestones in 2023."
Reflecting on the past year, CEO of HS2 Ltd Mark Thurston said:
"What a year it's been: from the depositing of the Bill to take HS2 to Manchester, establishing initial sites on phase 2A in Staffordshire, the first breakthrough and then complete end-to-end of an HS2 tunnel, and fantastic progress at all four phase one station sites. 2022 has been a year of immense progress on Britain's landmark infrastructure project and I'd like to thank everyone involved.
"Right now, HS2 is delivering jobs for almost 30,000 people, with tens of thousands more supported throughout our wider supply chain. Over 2,800 companies have contracts with HS2, ensuring the project is helping grow the UK economy long before a single train starts running."
PROJECT MILESTONES IN 2022:
Starting the year, HS2 published a bill setting out legislation for the next phase of HS2 including a 52-mile extension of the high speed network to Manchester.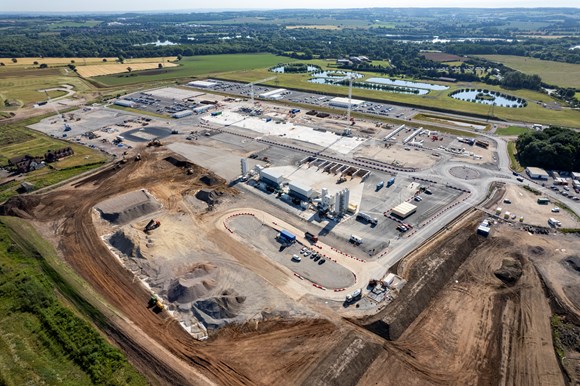 HS2's civils partner, Balfour Beatty VINCI (BBV), opened the doors to its giant construction compound in Kingsbury, Warwickshire and revealed the scale of works underway ready to build one of the most complex sections of the HS2 route – the Delta Junction – a triangular section of line where the new railway curves west towards Birmingham and runs north towards Crewe. It is expected that 2,742 segments will be produced at the on-site batching plant.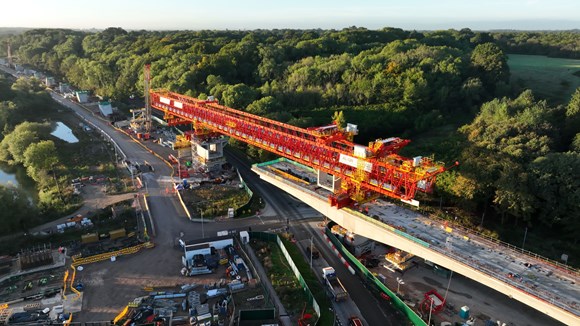 In May, a giant bridge-building machine began work on the high speed railway's first and longest viaduct on the outskirts of London. The enormous 700 tonne bridge-building launching girder will build a viaduct stretching for more than two miles (3.4km) across a series of lakes and waterways between Hillingdon and the M25, the Colne Valley Viaduct will also be the longest railway bridge in the UK.
In the summer, HS2 Ltd also confirmed that its first construction site had become completely diesel-free through the implementation of multiple innovations, including the UK's first 160 tonne emissions-free fully electric crawler crane and the use of biofuels to power plant and machinery on site.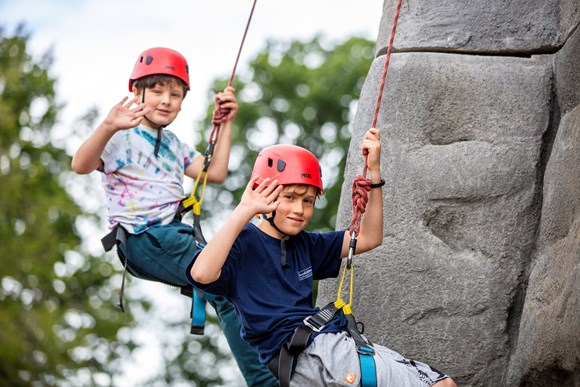 In June, HS2 hit an important milestone by funding over 200 projects through the Community & Environment Fund (CEF) and Business & Local Economy Fund (BLEF). Initially set up in 2017, the programmes have provided over £12 million in funding to community groups and organisations impacted by the construction of HS2.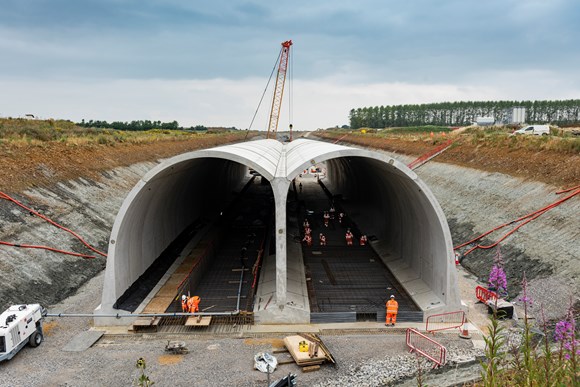 Also in June, HS2 announced the start of construction at the site of its first innovative 'green tunnel', designed to blend the high speed railway into the landscape and reduce disruption for communities. Unlike a normal underground tunnel, the one-and-a-half mile (2.5km) Chipping Warden green tunnel in Northamptonshire is being built on the surface using a pioneering off-site manufacturing approach to speed up construction and improve efficiency.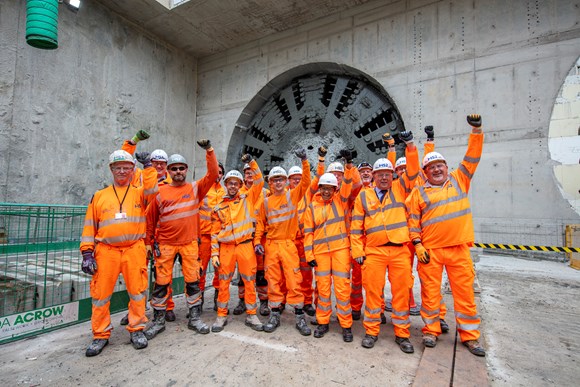 Ending the summer on a high, HS2 Ltd celebrated the very first tunnelling breakthrough on the project. The 2,000-tonne TBM (Tunnel Boring Machine), 'Dorothy' completed her one-mile dig under Long Itchington Wood in Warwickshire. The tunnel preserves the ancient woodland above, which is classified as a Site of Special Scientific Interest (SSSI) and has complex ecosystems that have taken hundreds of years to establish.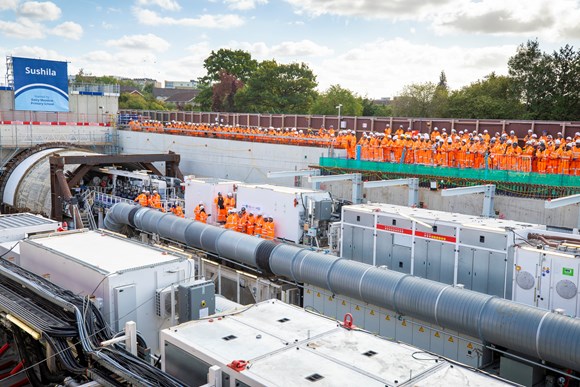 Following close behind 'Dorothy', the first of two 2,000 tonne TBMs in London started their 5-mile journey from West Ruislip towards Euston beneath one of the busiest cities in the world. The first machine is named 'Sushila', after pupils nominated local teacher Sushila Hirani. The second machine is named after the first professional female astronomer Caroline Herschel.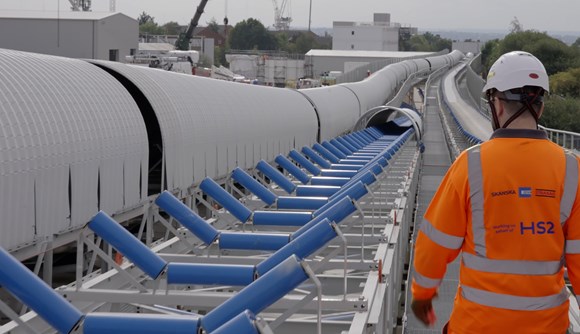 In November a 1.7-mile-long interconnected network of conveyors sprung to life in West London, which will move over five million tonnes of spoil excavated for the construction of HS2. The use of the conveyor will remove the need for one million lorry movements from roads in West London, reducing traffic congestion and emissions in the local area.
Last month HS2 Ltd celebrated reaching five years of tree planting and habitat creation. Since the completion of the HS2 Phase One Bill, HS2's ecologists have established 119 new habitat sites and planted around 845,000 trees, covering an area equal to 650 football pitches.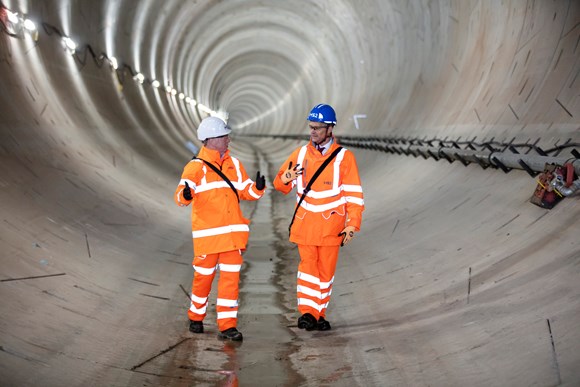 In December, Secretary of State for Transport Mark Harper went 33 metres below ground for an exclusive end-to-end tour of the first completed tunnel on the HS2 project.
Photo credit: HS2 Ltd