The COVID-19 pandemic has been a two-edge sword for the railway industry. The disease itself has been dreadful, with a number of railway workers and tens of thousands of the population dying from it and many times more infected to a varying degree. Words cannot express how we all feel about the devastation this disease has caused.
Yet the effect of the pandemic – the lockdown and people being told not to travel – has assisted the railway infrastructure companies. Total line closures, unpopular at any time, have been possible without major disruption – the few passengers travelling were easily handled by bus.
So major works have been planned in a hurry (Kilsby tunnel), and the occasional overrun (Gypsy Patch Bridge) has been largely forgiven.
It's a strange time.
Normally, on a busy railway, the total closedown of the network on Christmas Day and Boxing Day, and the sparsity of passengers over the rest of the period, makes the Christmas and New Year holiday a popular time to catch up on heavy maintenance and renewals.
This last holiday was no exception. Despite COVID, social distancing and strict hygiene regimes, £137 million of engineering work was delivered from the evening of Wednesday 23 December 2020 to the early hours of Monday 4 January 2021. Teams of engineers worked in over 4,500 worksites across more than 1,700 possessions, delivering major enhancements as well as core renewals and maintenance works across the rail network.
Of these, 48 projects, delivering infrastructure through a total of 84 worksites, were identified as RED through the Delivering Work Within Possessions (DWWP) standard, therefore carrying a greater risk of overrun and/or a more significant impact in the event of an overrun.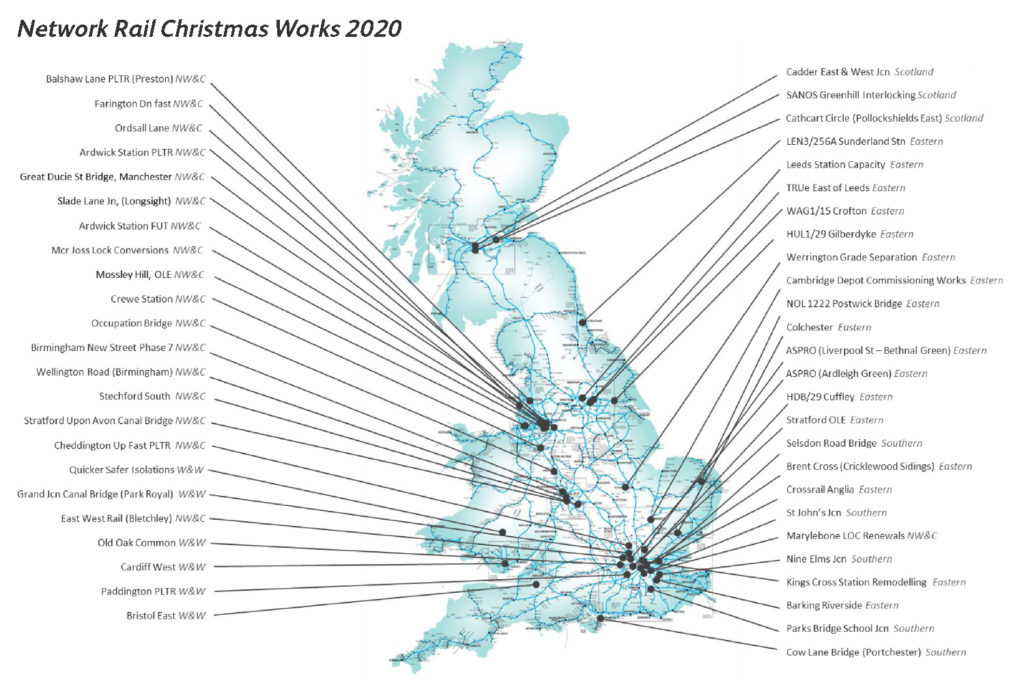 Major projects included:
Large-scale Switches & Crossings (S&C) renewals at Nine Elms Jcn, St Johns Jcn, Cardiff West Jcn, Bristol East Jcn & Cadder Jcns;
Plain line track renewals at Cheddington, Stechford, Ardwick and Balshaw Lane within the North West & Central Region, Paddington within the Western Region and Pollokshields East (Scotland);
Significant multi-disciplinary works at King's Cross as part of the King's Cross Remodelling scheme;
Continuation of a number of large enhancement schemes, including Leeds station, Werrington Dive Under, Euston HS2 Enabling Works and the new Brent Cross station;
Structures, OLE and drainage renewal schemes at multiple locations across the network employing a variety of methodologies to renew aging assets and improve journeys for passengers and freight.
They all went almost without a hitch. In total, 17 out of the 1,705 possessions overran, a total of one per cent. These included:
Eastern region – Postwick Bridge (Anglia). An overrun of 714 minutes occurred after Storm Bella delayed the bridge installation on 26/12. This risk and potential overrun was understood prior to Christmas so arrangements were put in place to accommodate this with support from Greater Anglia. The condition of the structure meant that this work had to be completed.
Eastern region – Barking Riverside (Anglia). An overrun of 237 minutes occurred following some specific design issues relating to an individual track circuit.
Eastern region – Brent Cross (East Midlands). An overrun of 68 minutes occurred during the partial handback on 28 December due to remedial work required upon the OLE equipment (one empty stock move was affected).
Eastern region – GE Mainline (Anglia). An overrun of eight minutes occurred due to delays encountered at possession level whilst handing back to operational use.Wales & Western region – Bristol East Junction (Western). Delays were encountered with the signalling gantry lift (due to Storm Bella) resulting in a possession overrun of 126 minutes.
In total, there were eleven reported accidents over the period and one RIDDOR reportable dangerous occurrence. Of the eleven accidents, two were without injury, five were classified as a minor injury with no lost time, a further two were classed as minor injury with lost time, and two are awaiting classification.
The RIDDOR reportable dangerous occurrence took place on Christmas Day during works to renew a number of S&C units at Nine Elms (Southern). The incident saw the collapse of a section of parapet wall in the Pontons road area. This incident remains under investigation to identify root cause, the sequence of events and the circumstances that led to this taking place. However, no injuries occurred as a result of this incident.
Two minor environmental incidents also occurred, both relating to spills of small amounts of hydraulic fluid on site. They were dealt with immediately, utilising spill kits, with no lasting impact.
A look at the 'RED' projects reveals the variety of work that Network Rail and its contractors undertook over the holiday.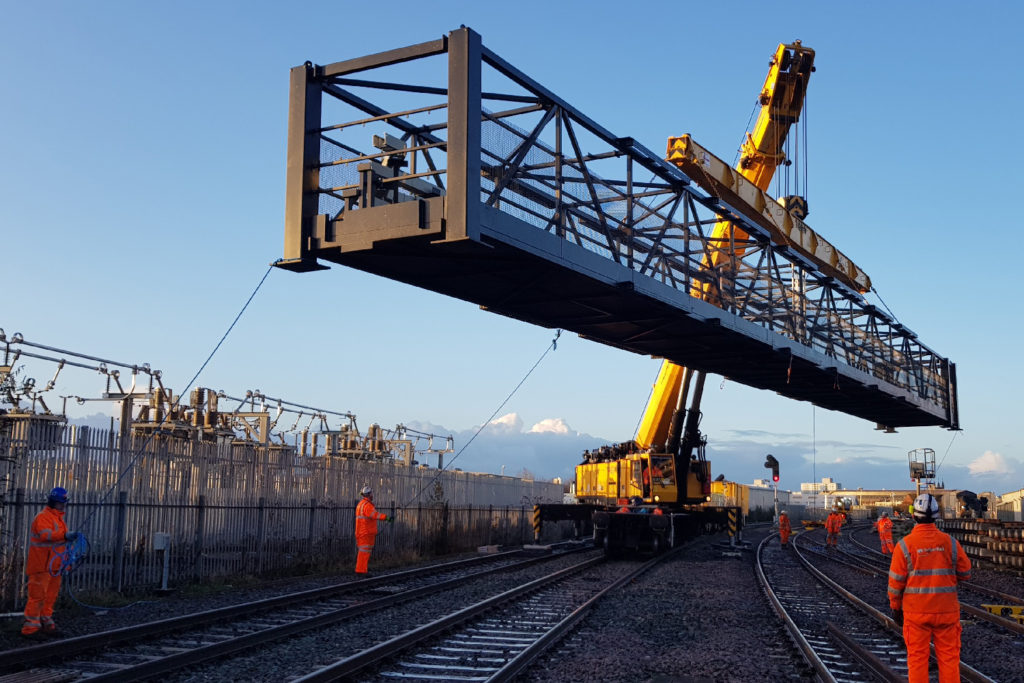 Eastern
Two of the major projects were in the Eastern region.
At King's Cross, all four tracks on the final approach to the station in the 'throat' were lifted to access the Camden Sewer underneath. This was removed and replaced with a modern segmented concrete version, buried deeper so the 'hump' in the tracks and the speed restriction could be removed. This project is the subject of a separate report in this issue of Rail Engineer.
At Werrington, further up the East Coast main line, a grade separation project is building a dive-under below the ECML, allowing freight trains to travel between the Stamford lines and the Spalding lines without crossing the ECML and slowing down high-speed passenger trains.
The actual dive-under box was pushed under the ECML in January, but Christmas work installed and tested bi-direction signalling so that two lines could be kept open during the later work.
The relocation of North Cricklewood sidings is underway to make room for the new Brent Cross station. All did not go as planned as high winds disrupted overhead line installation and some of the signalling programme had to be cancelled when key members of the team had to self-isolate due to COVID exposure.
Platform 0 was brought into operational use at Leeds station, even though installation and testing staff had to be quarantined for COVID. There were also issues with misplaced and crossed cables that had to be reworked.
The underbridge at Cuffley, on the Hertford loop just south of Cuffley station was replaced. Carrying two electrified lines over the B156 Station Road in Cuffley, it has a single span of 10.6 metres with nine-degree skew. The superstructure consisted of three longitudinal plate girders and transverse steel troughs, while the abutments and wing walls are primarily mass concrete and faced with blue engineering brick.
The bridge superstructure was in poor condition, suffering from corrosion at the ends of the transverse steel troughs. The main girders also had minor defects from road and rail strikes. The entire bridge deck was replaced over the holiday and the line reopened as planned. Final rail welding and track tamping was scheduled to take place two weeks later.
Another bridge, over Doncaster Road (A638) in Coften, was also replaced. Constructed in around 1880, the bridge had two independent decks, one for each of the unelectrified lines that it carried. Due to substandard clearance, the bridge had been subjected to repeated bridge strikes, resulting in significant damage and subsequent repairs to main and cross girders. The impacts had also led to replacement of some cross girders and stiffeners to the main girders.
Although the new bridge was completed and handed back on time, there had been an initial delay as the replacement decks were nine days late arriving on site, limiting the time for trial erection. A problem with the bearing connections was therefore picked up only just before the project was due to commence, but a temporary fixing was put in place and the 'go' decision was delayed until everyone was happy during the possession.
The deck of a two-span overbridge at Staddlethorpe Broad Lane, Gilberdyke, was replaced. The structure consists of a masonry arch crossing an access road and a steel and concrete flat deck crossing the Up and Down Hull lines. The steel and concrete section was removed and replaced with a new steel and pre-cast concrete integrated structure during a 56 hours and 45 minutes disruptive possession.
Some residual works for Crossrail were carried out in Anglia, between Pudding Mill Lane and Gidea Park, including stations civils, demolition, signalling, signalling power, traction power, and OLE. Work took place on the autotransformer feeder cables, bonding was completed on six bridge structures and on London Underground at Stratford station. Gidea Park station platforms were resurfaced to bring new platform levels into line with platform extensions. The strengthening and cladding of the overbridge at Ilford station were completed so that the existing width restriction could be removed and full capacity reinstated, and the ticket hall at Romford station was demolished ahead of reconstruction and fitout of the new station layout and station systems.
A total of 13 S&C point ends were replaced at the country end of Colchester station, as well as over 800 metres of plain line, new associated signalling and points heating equipment, and the OLE was checked to make sure it was fit for the new track layout. A sliding buffer stop was installed on Platform 6 to suit Greater Anglia's new rolling stock.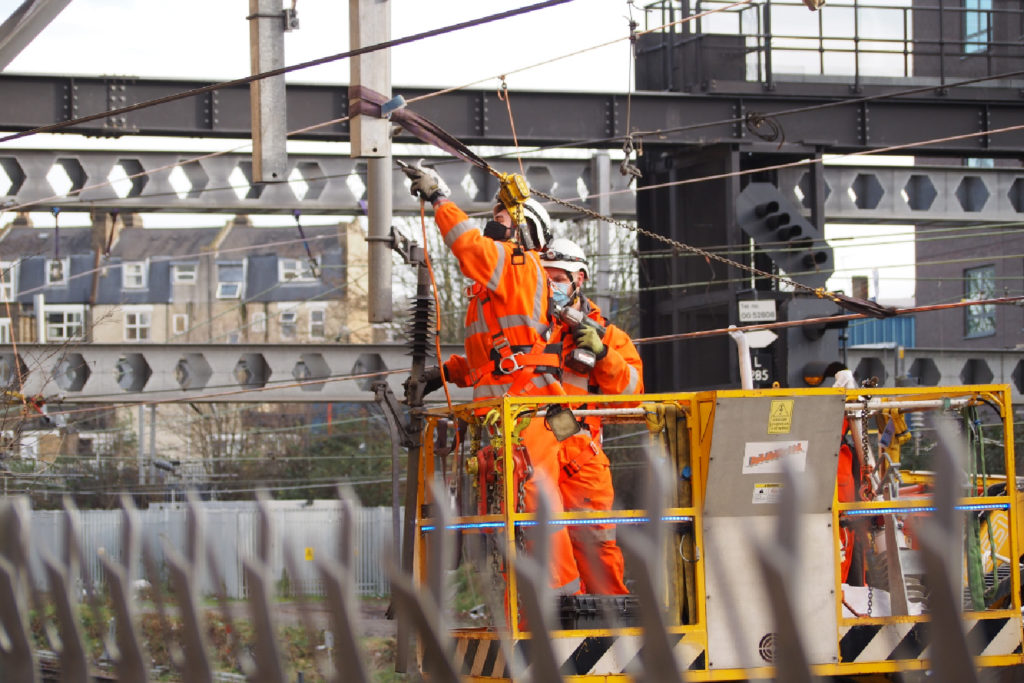 The Stratford rewire project, which will replace the existing fixed termination overhead line electrification equipment with a modern auto-tensioned design between the Liverpool Street end of Stratford station (Carpenters Road) and McGrath road at the Forest Gate end of Maryland station, continued. Two twin-anchor booms, each 29 metres long and weighing around eight tonnes were installed, while four wire runs and three switches were replaced.
Two further bridge replacements were carried out over Christmas and New Year 2020. The underbridge over Oaks Lane, Postwick, on the Norwich to Lowestoft line, was initially planned to be delivered in February 2020 during a four-day blockade. However, due to severe high winds and weather (Storms Ciara and Dennis) impacting the planned crane lifting operations, the main works were cancelled and moved to Christmas. The existing structure was in poor condition which resulted in increased frequent examinations and maintenance costs.
However, the weather once again intervened, this time it was Storm Bella that delayed the critical lifts by 14 hours, forcing implementation of the agreed 12-hour contingency possession overrun to complete the works.
The bridge at Camden Road had been identified as requiring substantial strengthening works due to fatigue cracking and poor deck condition. Previous emergency works had resulted in both track and road closures and the structure was under an enhanced frequency of examination and monitoring, as was the nearby bridge at Chalk Farm, which was in a similar condition.
Both bridges were strengthened during a complex Christmas programme which included an emergency wheel-timber replacement on Camden Road bridge with only two weeks' notice.
The Barking Riverside Extension project involves the construction of a new railway station in Barking in the London Borough of Barking and Dagenham to serve the Barking Riverside regeneration area. The extension will run partly over the existing London, Tilbury and Southend railway line from Barking, while 1.5km of the 4km of new railway will be laid on a newly constructed steel and concrete viaduct terminates at the new elevated station.
Work planned for Christmas 2020 included the removal of the four sets of points that currently lead into Ripple Lane sidings from the Up and Down Goods lines, as well as two additional sets on the plain line, and to install and commission six new sets of points along with associated signal post telephone works.
However, a track circuit design issue on one set of points prevented the handing back of the Ripple Lane West Sidings and the Up Goods line. In addition, the tamper allocated was inadequate for lifting and slewing complex S&C and was only able to achieve a consolidation pass. Although the plain line tie-ins were tamped, the S&C had to be jacked and packed to enable the setting up of the points.
The Upminster signaller on panel 3 would not allow signal testing to commence due to the perceived increased workload that this would create. As a result, two possessions had to be cancelled to facilitate the start of the signal testing works – these works will be re-planned in future weekend possessions.
Platforms 16, 17 and 18 at Liverpool Street station are being remodelled. Over Christmas and New Year, the ballasted track alongside Platforms 17 and 18 was removed and replaced by slab track, points were removed and the track plain lined and OLE adjustments made in preparation for works at Easter. The buffer stop for Platform 18 was replaced.
On two occasions, plant came into contact with and damaged the OLE, so repairs had to be made. In addition, a contractor working on behalf of BT broke through the bridge/soffit over Platforms 17-18 while undertaking fibreoptic cable installation at street level, necessitating another repair.
The Ardleigh Green bridge replacement project – the phased demolition and replacement of the TfL bridge carrying the A127 dual carriageway over the line between Harold Wood and Gidea Park train stations, was completed in May 2019. However, the Phase 3 demolition works (originally planned for Christmas 2018) could not be undertaken until Christmas 2020.
This involved the relocation of OLE brackets and cables from the trestle piers (located in the cess and 10 foot) to the new soffit of the new bridge decks, the slewing and protection of cables in troughs and the demolition of the brick piers to sleeper level. The work was completed 24 hours early.
North West and Central
A 579-yard plain line track renewal of the Down Main line at Ardwick station required the existing rail and wooden sleepers to be removed as panels by heavy lifter from the platform. LERPS (lateral resistance end plates) were to be fitted to the sleeper ends through the station curve.
The track was replaced as planned using a McCulloch FLASS to position the sleepers before the rail was lifted in by McCullock TRT handling machines. The work was completed as planned and the track was handed back at line speed of 30mph. Stressing was partially completed and was due to be finished midweek. The LERPS were fitted, however, due to the structure, shortened LERPS were required in places and these had to be ordered.
The signals and route indicators in and around the Crewe station area are an early version of the fibre optic standard alphanumeric type, originally installed in 1985 as part of the Crewe SCC commissioning; they were deemed beyond life extension or repair. Over Christmas and New Year, 37 signals were renewed at Crewe station, including LED conversions for main aspects, position light aspects, standard and miniature indicators. The project was also to reinstate the temporary approach control link (TACL) on one signal, fit overspeed sensor systems (OSS) to two more and install dropper cages on three signal gantries.
In addition, a new OLE structure at Basford near Crewe replaced an earlier gantry.
The Birmingham New Street Area Renewals (BNSAR) project is renewing all life-expired signalling systems and trackside equipment in the Birmingham New Street PSB control area with control passing to the West Midlands Signalling Centre. This work continued through Christmas and New Year, and will continue with individual platforms being taken temporarily out of use as equipment is renewed.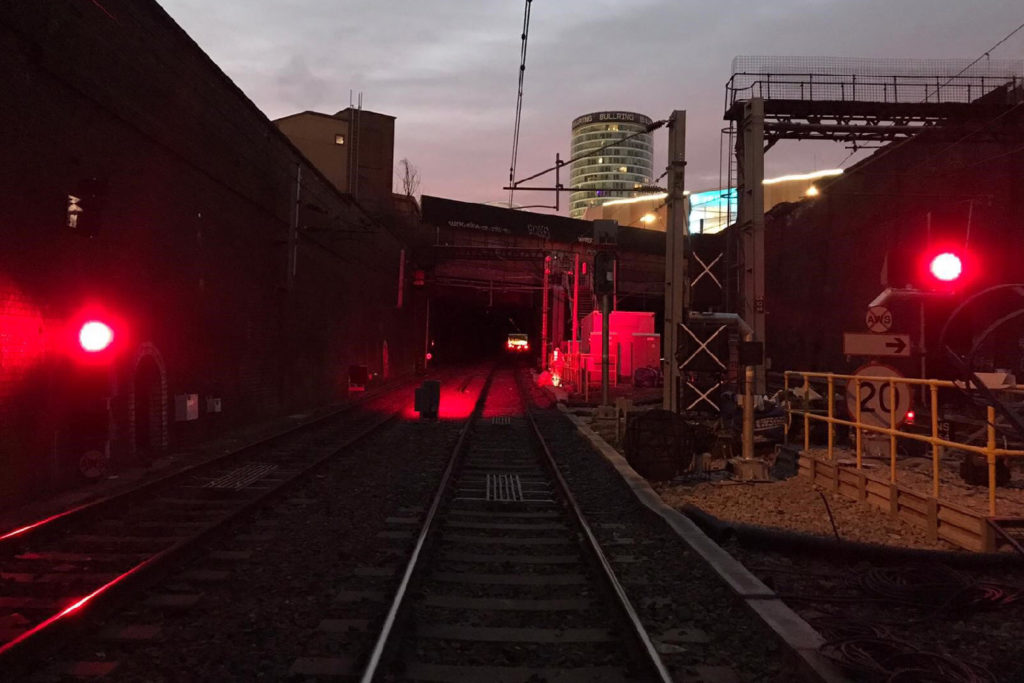 The plain line track renewal at Cheddington replaced 578 yards plus one external ramp (total 600 yards) on the Up Fast between Saturday 2 January and Monday 4 January, using six engineering trains and a tamper.
The existing 60' track panels were removed by a TRM (track relaying machine), after which road-rail excavators dug the old spoil into open wagons, The formation was then dozed to level, sand-replacement geotextile was installed then bottom ballast from open wagon was then added on top of that. New sleepers were installed by a hydraulic lifter and spreader, new rail was thimbled in and clipped up using a Pandrol CD400 clipping machine, after which top stone was unloaded from the auto ballast train and tamped to the design level. The site was handed back on time, fully welded and with a temporary speed restriction of 60mph.
The OLE (overhead line electrification) was renewed on all four main lines plus one spur through Bletchley. This allowed the existing OLE structures to be recovered. In the event, three structures will have to be recovered on later weekends after delays caused by high winds on Boxing Day.
Obsolete Joss Lock points operating equipment (POE) was replaced by more modern Clamplock types on three sets of points in the Manchester Piccadilly station throat. In addition, two Clamplocks were also renewed, to improve reliability on the 'Eastern' lines coming out of Piccadilly.
The team worked well in inclement weather, and discussions were held around the resilience of regular personal protective equipment (PPE) in an area where there is excess oil and a lot of debris caused by old rolling stock. The use of paper coverall suits is being looked at for future works.
A heavy S&C refurbishment took place at Slade Lane, where the switch diamonds had an unrepairable defect caused by hot weather due to a shallow depth construction method. The damage was being covered by a temporary speed restriction.
All lines were closed, blocking the route from the main lines to Manchester Piccadilly station and Manchester Airport. The top layer of ballast was excavated and new ballast distributed. The new S&C panel was installed and welded in place, and the layout tamped by an S&C tamper to improve consolidation.
SIN119 (Special Inspection Notice 119) has resulted in a national programme to improve earthing of location cases, following a Network Rail contractor having received an electric shock in March 2012. Work at Carlisle South involved Class I and Class II upgrades to assets fed by the Carlisle Ring Main, where these works could be done in rules of the route (RoTR) access.
To improve visibility for drivers on the approach to the key junction south of Preston station, position light junction indicators (PLJI) were replaced with LED equivalents over Christmas as wheels-free access wasn't available under RoTR possessions.
Two new location cases were commissioned by the Bletchley signalling team as part of the Marylebone Golden Five Mile scheme. Some new track circuit equipment was also commissioned.
An existing single-span U-deck occupation bridge at Great Bridgeford, which carries a farm access track road over four electrified railway lines, was replaced with prestressed over 54 hours of the 2020 Christmas blockade.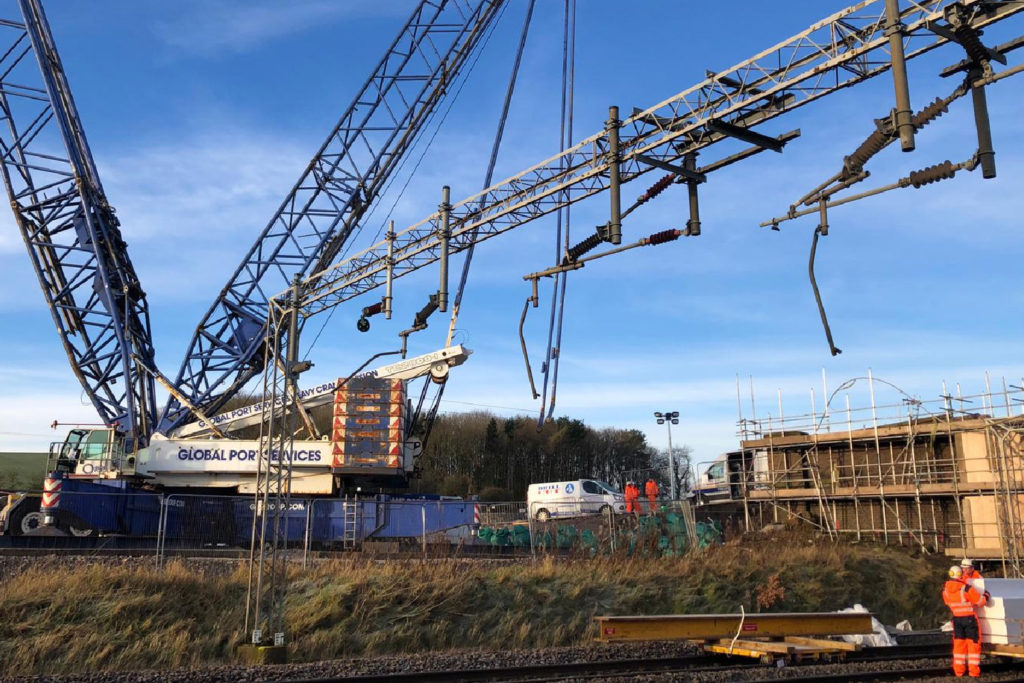 A Zayo fibreoptic cable had first to be slewed onto temporary supports, and the OLE dismantled, before the old bridge could be removed and its abutments demolished. New cill units were installed along with three precast inner beams. The Zayo cable was replaced and then two edge beams added. Finally, the OLE was reinstated.
Unexpectedly, the contractor had to develop and use a jacking method to free the end of the bridge, but, despite this, the project was completed 12 hours early.
A plain line track renewal on the Up Main line at Balshaw Lane resulted in a 60mph handback in place of the expected 50mph. Existing rail and sleepers were scrapped, with the rail being burned into 20-foot lengths and loaded onto the work train. Due to minor plant issues, stressing was not undertaken and this will be completed at a later date.
A similar process at Farringdon curve also led to a 60mph handback, this time without the stressing issue. At the same location, however, plans to remove the existing drainage and install a new drainage system using 300mm pipe came to naught when investigation works on the shift identified a fully functioning 600mm pipe which, if replaced with 300mm pipe, would have risked causing further flooding issues. Refurbishment of three catch pits was completed and further works identified that several catch pits had been capped off incorrectly, causing blockages throughout the system.
Leaving the existing 600mm pipe in situ will enable the volume of water on site to drain away correctly. If the pipe had been changed for a 300mm pipe, there is a possibility that the system would not have been sufficient for the volume of water involved.
Auxiliary Wire forms part of the OLE Mark 1 compound equipment which was installed on main lines in the 1960s. Following modelling, it was realised that pre-sagged equipment offered better performance. In the past six years, LNW North has had five incidents where the auxiliary wire has parted, causing delay, plus one instance where the driver of a failed unit received a severe electric shock while inspecting their train.
Over Christmas and New Year, the Auxiliary wire was removed from three wire runs at Mossley Hill, with preparatory work completed on a fourth wire run, although the wire drop is still outstanding.
In a short possession of less than 12 hours, 176 yards of plain line track was renewed on the Down Stour at Wellington Street. New geotextile was laid, with bottom ballast, track and top ballast going on top of that. Temporary joints and clamps were installed before the site was handed back at 50mph.
At Stetchford South, 453yds of the Up Coventry was renewed between 24 and 27 December 2020. Balfour Beatty's Track Relaying Machine was used to remove the old track in 60-foot panels and install new track on bottom ballast laid over new geotextile. All works were completed as planned and the track was handed back at the planned 60mph TSR fully stressed and around eight hours early.
The Northern Hub Alliance renewed under-track crossings (UTX) and track drainage on the Down Chat Moss line. This was an enabling stage for the renewal of 200 metres of the track formation later in the year.
The team also commissioned the new SCADA (Supervisory control and data acquisition) system at Castlefield junction and Water Street. This will enable safer and quicker isolations to be taken at these critical locations.
Southern
The deck of Cow Lane underbridge in Cosham, between Fareham and Portsmouth, required replacement to bring capacity to RA8 at line speed and to reduce the bridge strike risk to double amber. A 450-tonne road crane was used to remove the existing bridge deck and replace it with two steel U-decks. The track was lifted and replaced, S&T and HV cables slewed onto the new decks and axle counters removed, re-instated and tested back into operational use.
A failed weld on the Up line was clamped and a closure rail will be installed later. A 50mph TSR was planned anyway, so the failed weld did not cause any additional operational impact.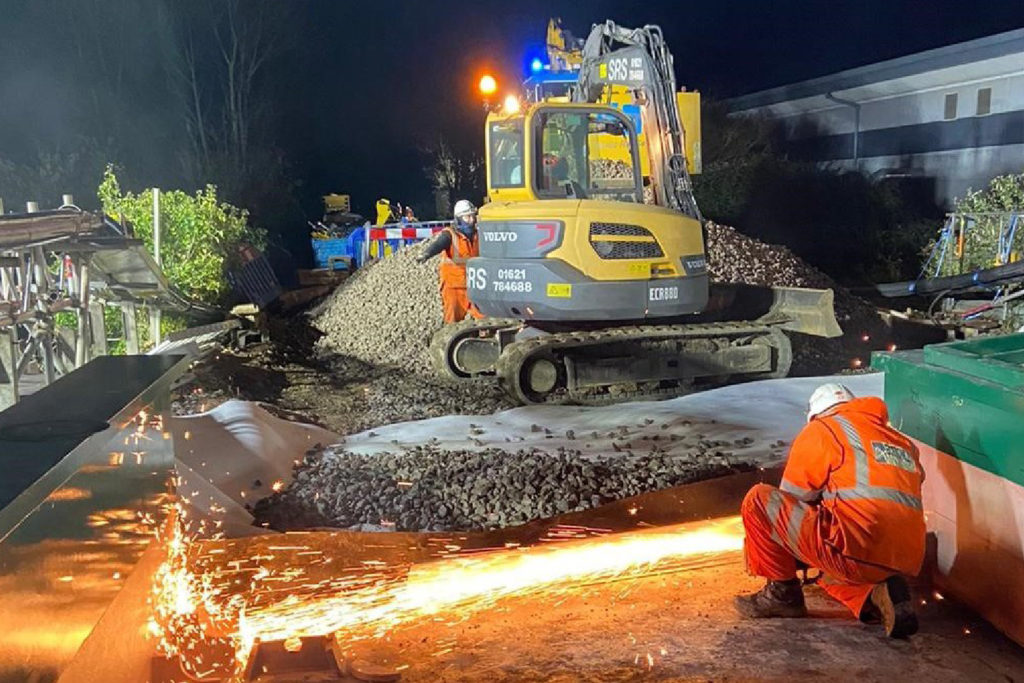 The two metallic bridge decks outer spans of Selsdon Road bridge, on the Brighton main line, were replaced with precast and prestressed concrete units manufactured by Shay Murtagh. The structure was life expired and contained hidden critical elements (HCE) which could not easily be inspected or repaired, so replacing the structure removed the HCEs and provided a greater resistance to bridge strike.
Although the Christmas period is typically quieter than normal, particularly during the current pandemic, two of the four lines were kept open for trains throughout the works while the Up Fast and Down Slow metallic bridge decks were replaced during two 52-hour possessions. Once the decks were installed, the track was replaced using the existing running and conductor rails.
Wales and Western
Stage C of the remodelling of Bristol East junction took place in the Christmas holiday, in advance of a blockade in Summer 2021 to deliver Stage F.
Five point-ends were installed, along with points heaters, and the In/Out sidings recovered. Signalling was disconnected, reconnected and tested alongside the track work and the new East gantry was erected. Foundations were also constructed for two new signals, to be installed later.
The handback on the morning of 28 December was delayed by two hours due to time lost during the lift of the new gantry caused by Storm Bella which then delayed the wheels-free testing.
The project to replace the roof of Bristol Temple Meads station continued during the holiday, with a good start made on installing the temporary works scaffolding that will be in situ for the next two years. The scaffolding will be contractor Taziker's access to undertake all work in the main train shed.
During the course of the refurbishment, the end screens to both the 'Exeter' and 'London' ends of the train shed will be refurbished, as will the original features inside the train shed, including the timber soffit cladding and metallic supports. All previously painted surfaces to the canopies will be repainted to ST3 specification (25 year design life) and the glazing replaced throughout.
Timbers were replaced on the deck of the bridge over the Grand Junction Canal at Park Royal in London. The track was removed to allow access and then both the waterproofing and 360 timbers were replaced, and positive deck-end drainage installed. The track was then replaced ready for on-time handback.
Work took place at London Paddington as part of the Safer Faster Isolations project, under which traction power can be switched off quickly and safely without anyone needing to access the railway.
Six sections were tested successfully over Christmas, despite an additional worksite having been added at short notice.
An unknown and unexpected buried cable caused delays on the 220-yard ballast and formation treatment renewal on line two into Paddington station. The cable was left undisturbed, but the work – 220 yards of ballast renewal, six completed and 448 yards of stressing, slowed down. Despite this, the site was handed back on time.
Merrick Road footbridge in Southall, London, was installed on behalf of Ealing Borough Council by Network Rail and Balfour Beatty. Once completed, this 66-metre combined footbridge and cycleway will reconnect the north and south of Southall and promote greater use of cycle routes.
During a five-day blockade over the New Year holiday, the South Rail Systems Alliance relayed five of the seven S&C point ends at the west end of Cardiff Central station, with the remaining two to be relayed later. Plain line track was also renewed, signalling, including 18 axle-counter heads, was disconnected, reconnected and tested and recently installed OLE adjusted.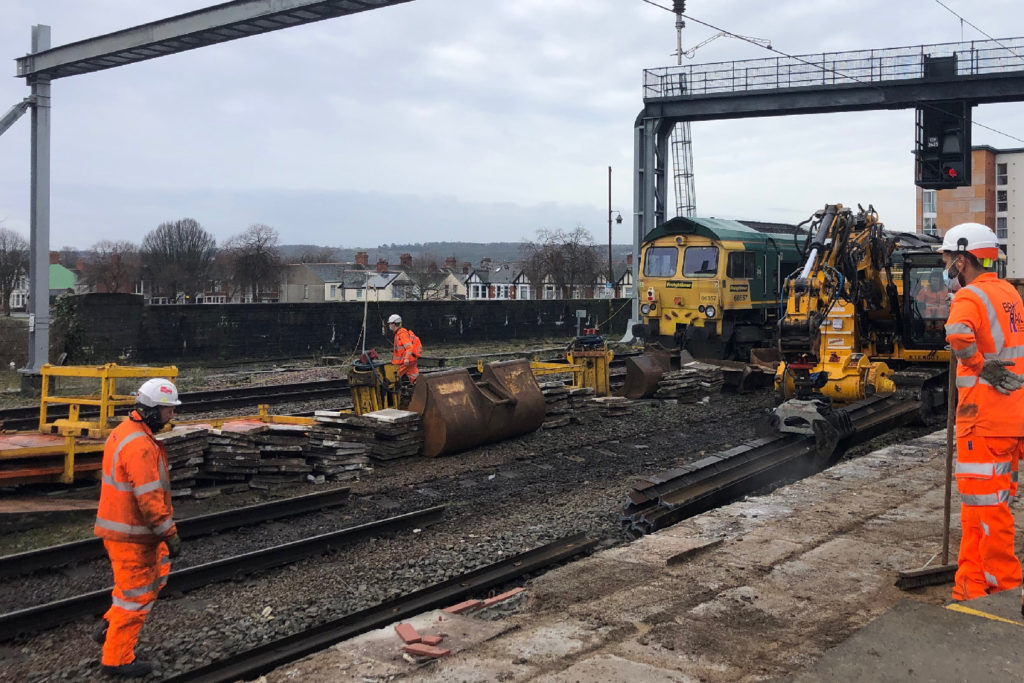 While the project was completed as planned, niggling faults both during and after the work marred the team's success. During the possession, there was an eight-hour late start due to isolation staff issues at ECO Didcot and there was a four-hour breakdown of one of the S&C tampers. After handback, there was an axle counter irregularity on Monday morning during traffic, plus a battery power pack failure of one set of points on Thursday morning.
Scotland
From Christmas Eve until the early hours of Saturday 2 January, engineers were working at Cadder to the north of Glasgow to replace over 1km of track and renew or refurbish 12 sets of points. The team also renewed signalling and overhead power equipment and upgraded points heaters.
At Greenhill junction, between Glasgow and Edinburgh, work took place over Christmas to upgrade signalling systems to make the railway more resilient and reduce delays for passengers.
To the south of Glasgow city centre, engineers worked from New Year's Day until the early hours of 4 January to renew junctions and life-expired tracks at Pollokshields East and on the approaches to Glasgow Central station.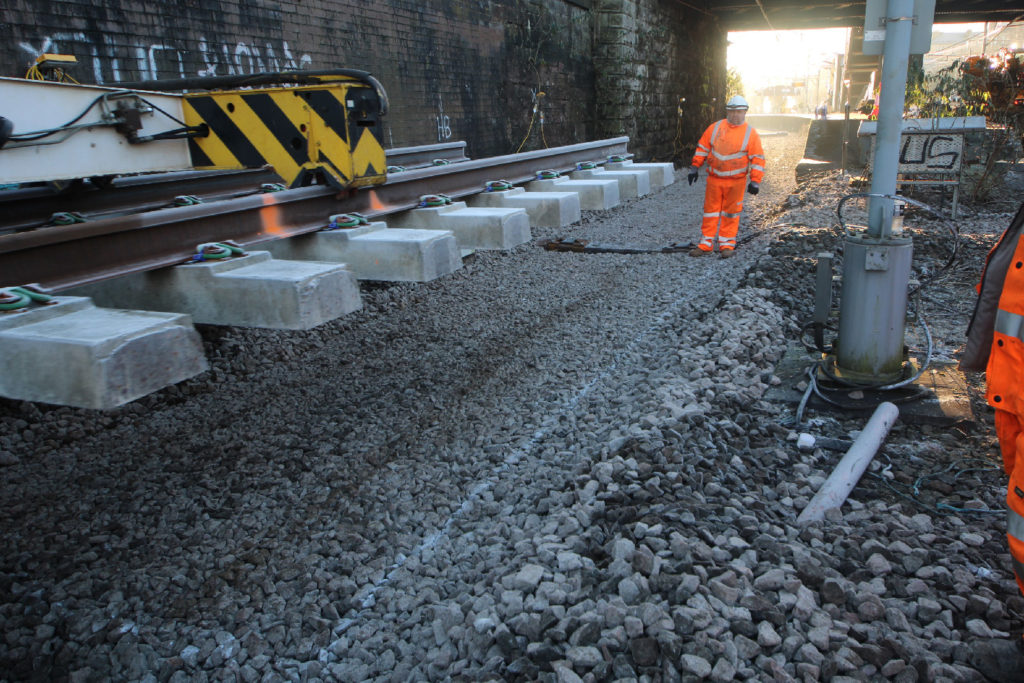 A job well done
Overall, it was another successful Christmas and New Year programme. 99 per cent of the work was completed on time, and the impact on the travelling public and on freight operators was minimal.
Once again, thousands of dedicated railway workers gave up the pleasure of spending Christmas with their families, and thoroughly deserved the break many of them took in early January.
This year the COVID epidemic complicated matters. Safe plans of work, involving distancing where at all possible and other precautions where it was not, had to be put in place and one or two projects suffered when key workers were suddenly unavailable due to quarantining. But the programme was delivered, despite the pandemic.
Andrew Haines, Network Rail chief executive, had the final word: "I would like to say a massive thank you to all those who have been out working tirelessly through the festive period to maintain and upgrade our infrastructure, delivering significant improvements and for those who have been keeping our passengers and freight customers moving throughout.
"Your hard work and dedication is truly appreciated."