YRP's 2020 study tour of Japan for young professionals working in the UK rail industry
When Young Rail Tours took a party of 21 young rail professionals on a study tour of Japan, they saw much of Japan's railway heritage, experienced its sights, sounds and cuisine, and got back just in time before Coronavirus shut the world down.
On the morning of Friday 13 March 2020, Young Rail Tours (YRT) took a group of 21 delegates on its first intercontinental railway study tour to Japan. YRT was founded in May 2019 with a vision to create affordable, accessible and inspirational study tours for young professionals working in the UK rail industry.
The tour covered several cities across Japan, including Tokyo, Kyoto, Hiroshima and Osaka. The first day allowed delegates to familiarise themselves with their new surroundings as we visited various tourist destinations in Tokyo, including the Tsujki Fish Market and Hamarikyu Gardens followed by a scenic 'Water Bus' Ride.
Tokyo
Lead by Mr. Jinno of Otomo Travel, day two consisted of a rail-specific walking tour around Oji of the Kita ward. The tour included a ride on the shortest monorail in Japan, observing the last tram in Tokyo, and a visit to Asukayama Park, a park which hosts retired trains for the public to enjoy.
This tour provided a great chance for delegates to learn from locals themselves. A vast range of topics was covered, from engineering methods for earthquake disaster mitigation to the economic benefit of hosting the 2020 Olympics on the local rail industry.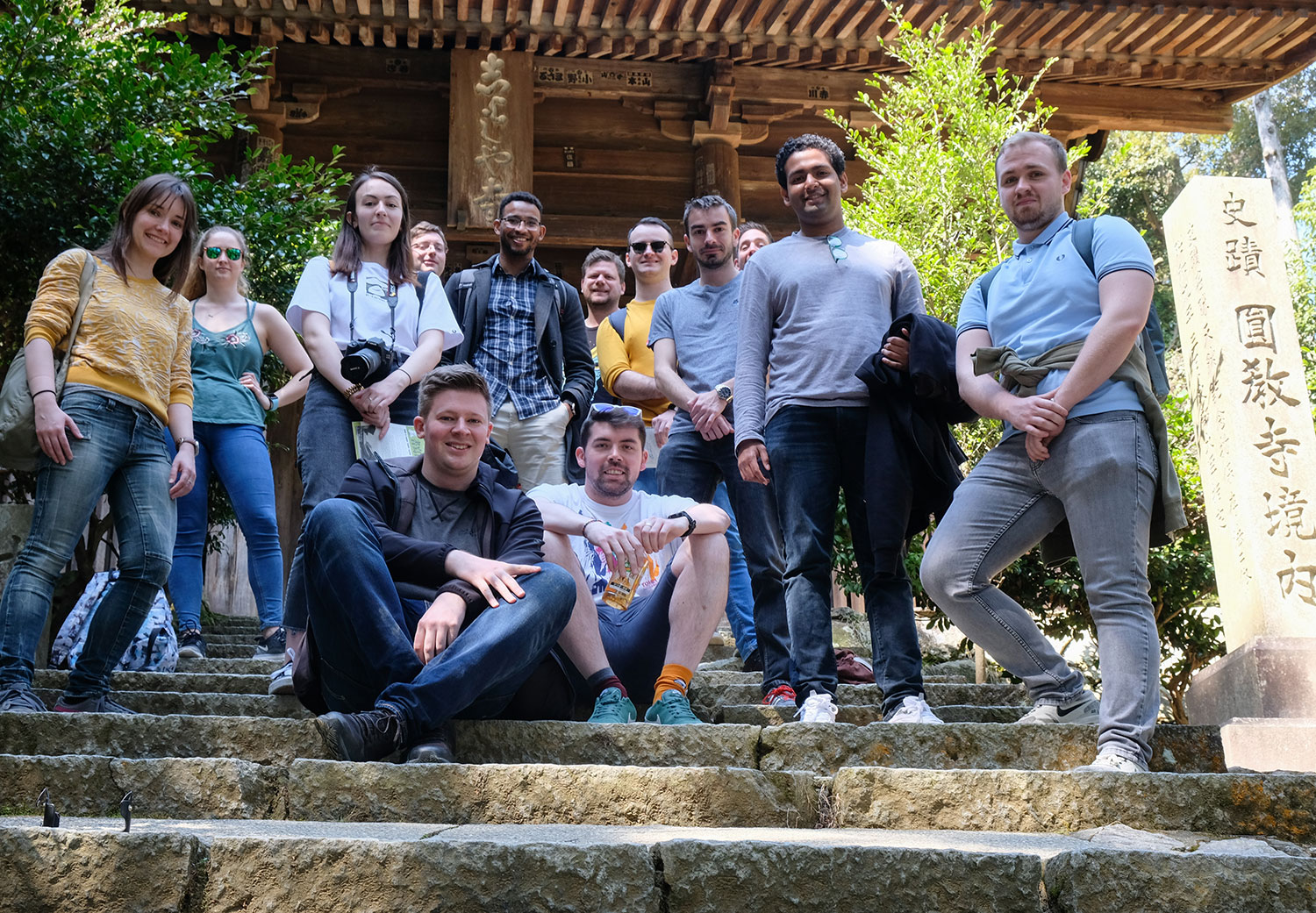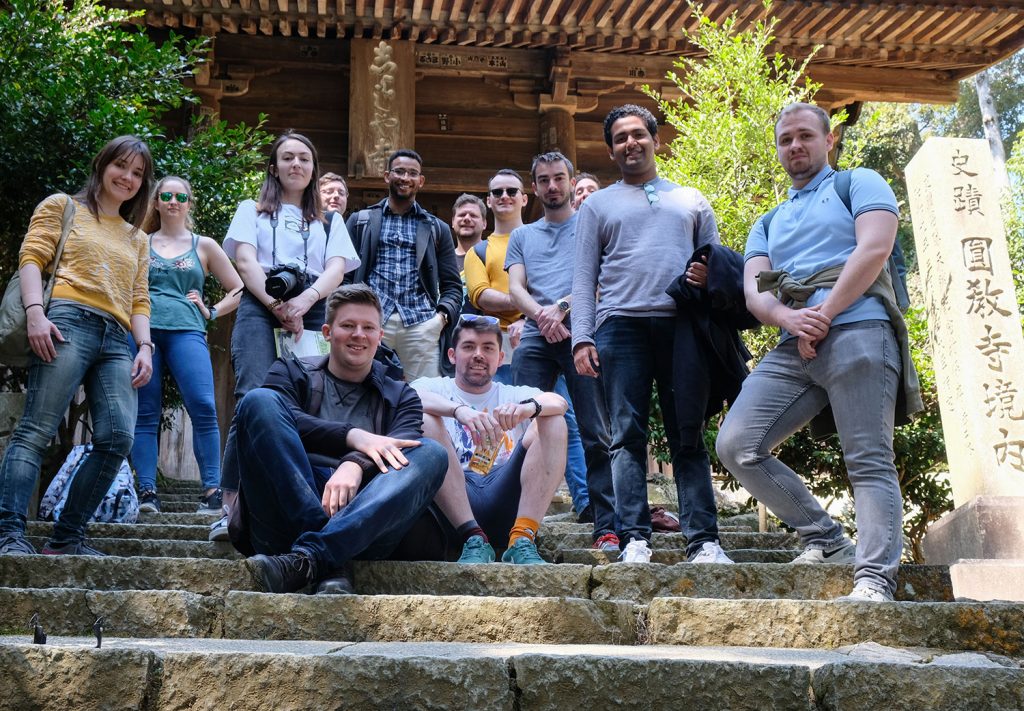 The group also took time to visit Takanawa Gateway station. Newly opened on 14 March, the station has been built as part of JR East Group's development of ESG (Environment, Social, Governance) management. Its architecture features the use of domestic wood-clad walls and huge glass windows to improve the thermal environment and reduce power consumption. It was also equipped with talking robots to provide passenger information services!
After a few days exploring Tokyo, the group then travelled on to Hiroshima. We would like to thank our travel partner, Trainline, who were kind enough to provide our seven-day Japan Rail (JR) passes. The passes allowed us full access to the JR network in Japan; all delegates agreed that they would recommend the passes to anyone looking to travel around Japan!
Sights and cuisine
Whilst in Hiroshima, delegates were able to visit the Hiroshima Peace Park, a memorial park dedicated to the legacy of Hiroshima as the first city in the world to suffer a nuclear attack. When the bomb exploded, the Atomic Bomb Dome was one of the few buildings to remain standing, and today it acts as a reminder of the cost of war and the importance of peace. Being at the site allowed the group to reflect on this hugely important historical moment and allowed us to think about the ethical responsibility that we all hold within society.
Moving onto western Kyoto, we took a delightful sightseeing train called the Sagano Romantic Train. The Sagano Scenic Railway runs old fashioned trains on a 19th century narrow-gauge railway through picturesque countryside. Passing through the Hozugawa river gorge, the route offers beautiful views of forests and mountains, further enhanced by the beginning of the cherry blossom season.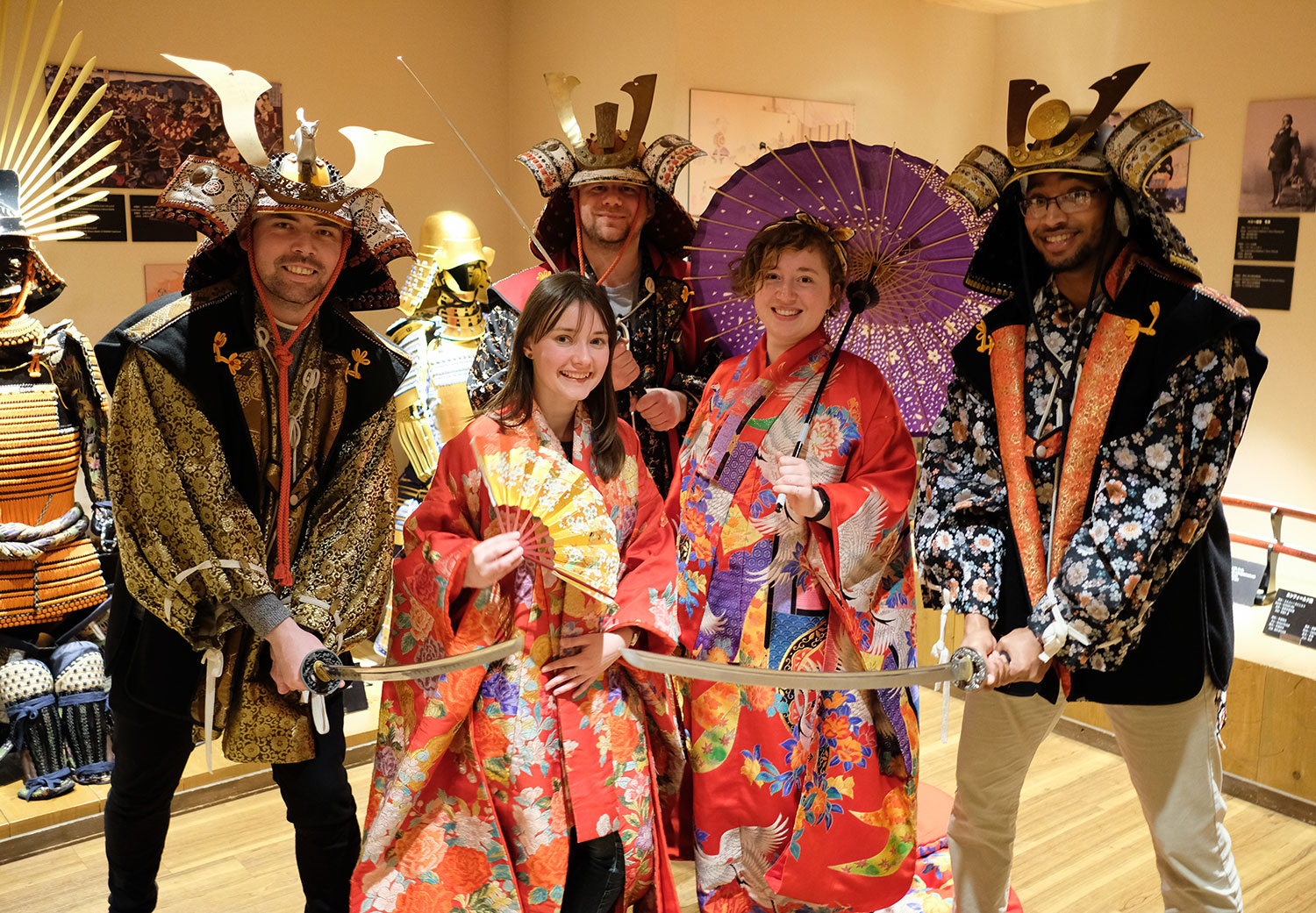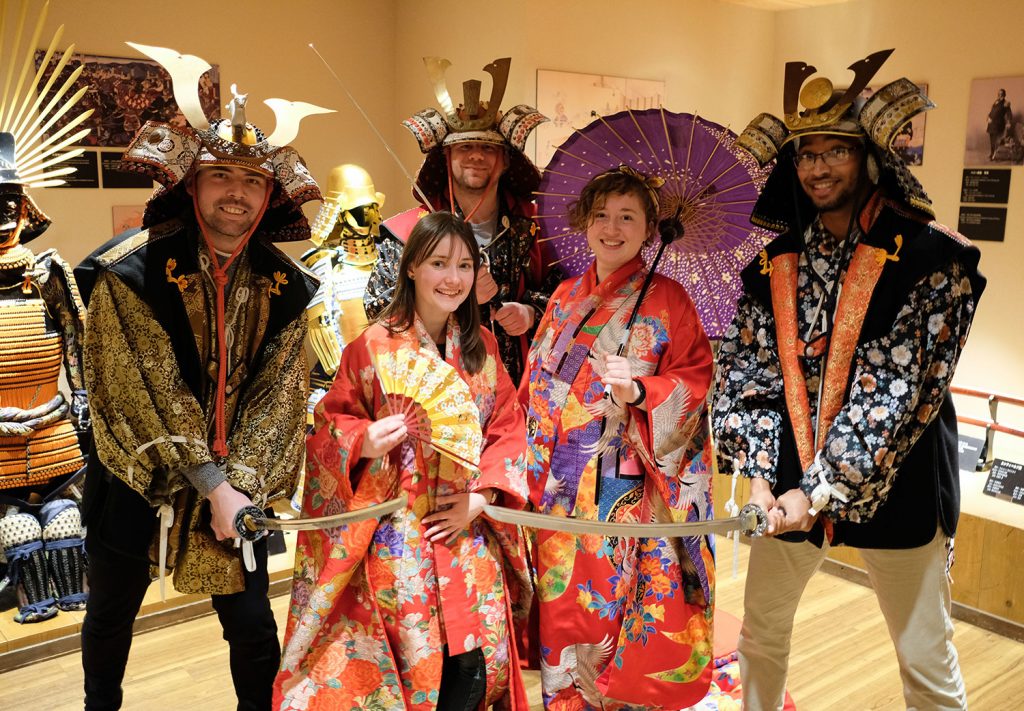 The delegates then had the option to stay at Kinosaki Onsen, a famous Japanese spa town. This was certainly an eye-opening experience, allowing us to dress up in traditional yukata (including wooden geta shoes!) whilst wandering around the town from one hot spring bath to another. A key part of the experience was staying in a ryokan (traditional inn) and feasting on local specialties such as Kinosaki crab.
Japanese cuisine was another key experience of the tour. Some favourites included sushi (served on a conveyor belt!), ramen (noodles served in a broth with meat and vegetables) and teppanyaki (Japanese dish cooked on a hot steel plate in front of your very eyes!). It's safe to say that delegates are now much more practised using chopsticks!
Travelling by rail around Japan was certainly an experience, particularly when using the world-famous Shinkansen bullet trains. The fastest Shinkansen reaches speeds of over 200mph, however, the fastest recorded on our various journeys was 180mph. Delegates were impressed by both the high standard of safety and comfort that these services provided. Clean, quiet, incredibly efficient and reliable; Japan's Shinkansen trains certainly gave everyone inspiration and ideas to take back to their respective roles within the UK rail industry.
The fragility and beauty of life
During our last few days in Japan, we were able to enjoy the start of the cherry blossom season at Ueno Park. Cherry blossom (known as sakura) is richly symbolic in Japan – it represents the fragility and beauty of life. This message was particularly prevalent during our trip, as news of the COVID-19 outbreak grew back in the UK.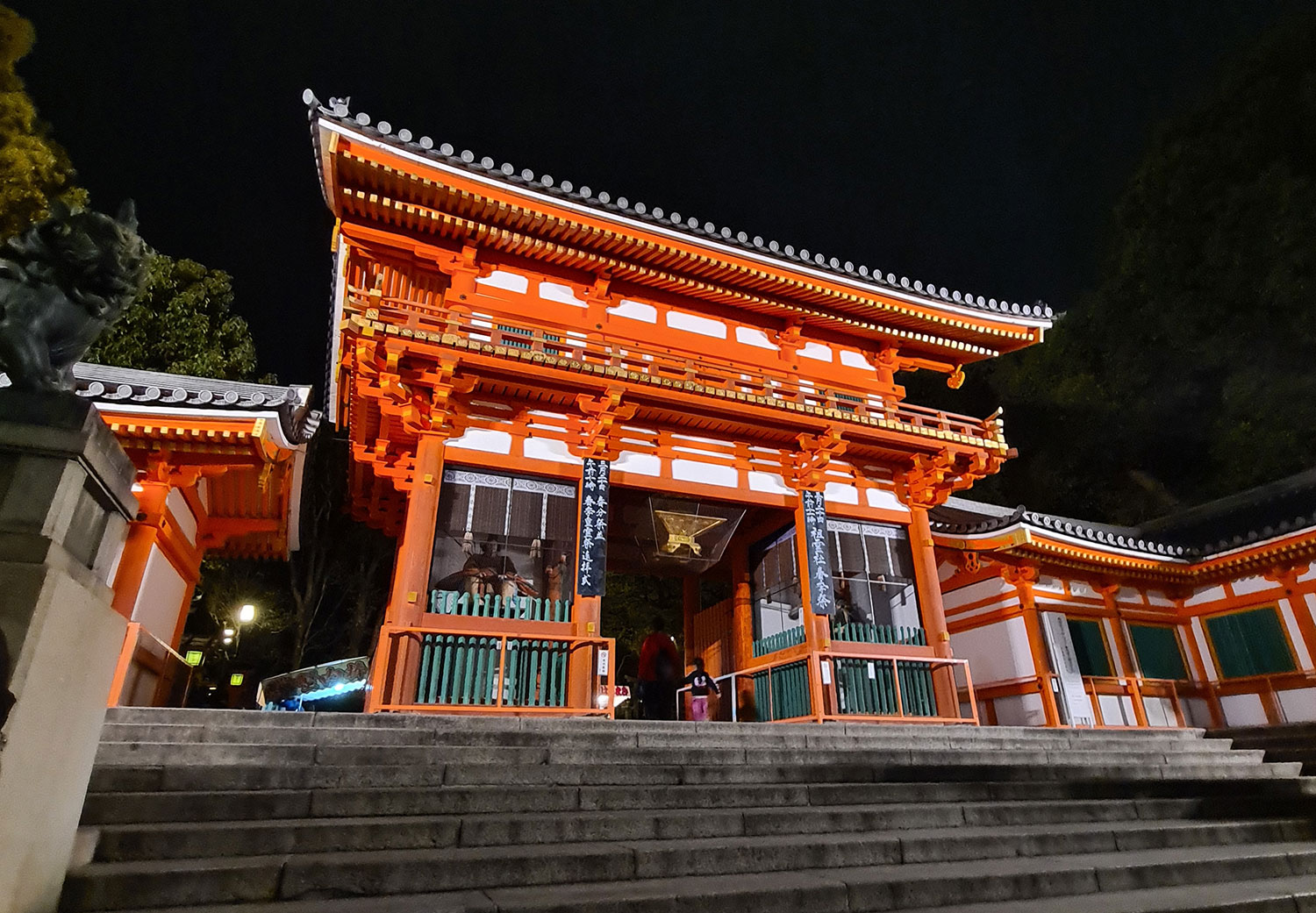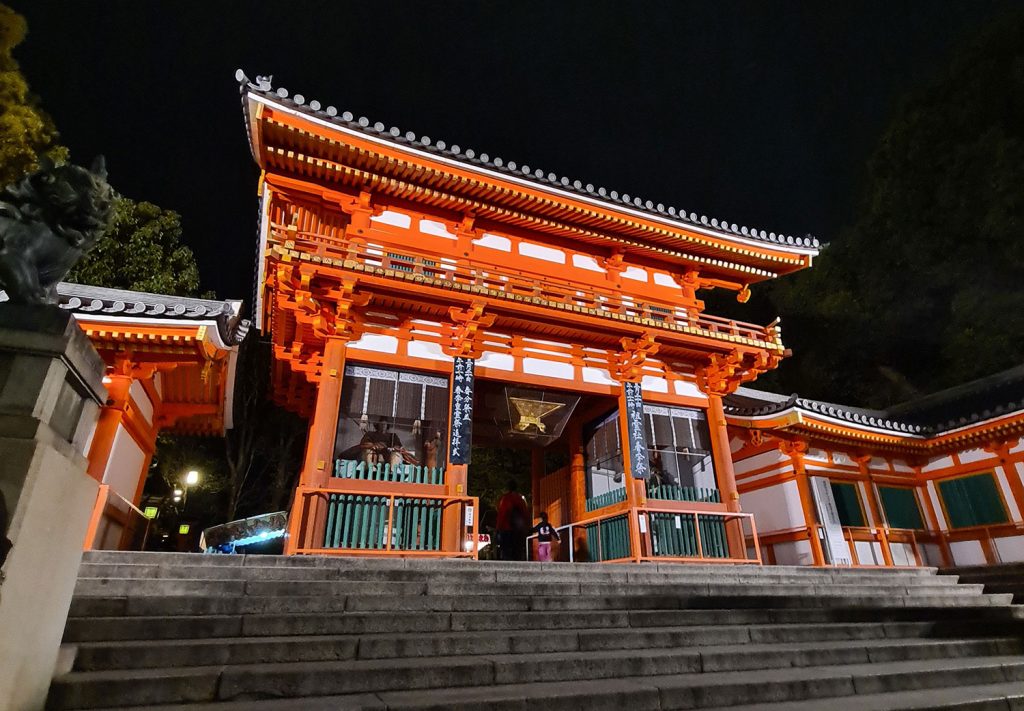 To ensure the safety of both the delegates and our Japanese counterparts, visits to the Shinkansen control centre and Hitachi's Kasado manufacturing facilities were unfortunately cancelled. However, huge credit must go to the YRT organisers, who remained prepared for a number of potential scenarios and ready to respond as the landscape evolved surrounding the Coronavirus crisis. We are pleased to report that all delegates returned safely to the UK.
There is no doubt that the Japan study tour was an amazing and inspirational experience for all members of the group. The tour allowed young professionals to build their experiences, develop new skills and create global networks which will, in turn, prepare them for their careers within rail. We would like to thank Eversholt Rail for sponsoring the Young Rail Tours programme and supporting this opportunity for 21 young professionals.
YRP would like to thank all YRT organisers for their outstanding effort and time volunteered to organise the tour. YRT is now beginning the process of organising its next tour; watch this space for details soon!
If you have any questions regarding YRT or its future tours, please get in touch with the YRT team on [email protected].