ScotRail celebrates its 40th birthday today (Friday 22 September), marking four decades of progress and transformation since the brand's inception on 22 September 1983.
As part of its celebrations, ScotRail has unveiled exclusive footage of some of the nation's most iconic rail bridges illuminated with stories of its customers and colleagues from over the years.
Featuring the Forth Bridge, New Clyde Bridge, Tay Bridge and Aberdeen's River Dee Bridge, the celebratory video also includes historic clips from the past four decades to show the changes that have taken place.
The creation of the ScotRail name in 1983 was part of a rebranding to make rail more competitive with car and bus. The iconic Saltire logo was added to the branding in 2008, on the train operator's 25th anniversary.
The years following its creation saw a number of significant milestones, marking the evolution of Scotland's Railway following the challenging Beeching era.
To commemorate its 40th anniversary, ScotRail is reflecting on some of the notable achievements and changes that have shaped the train operator into what it is today.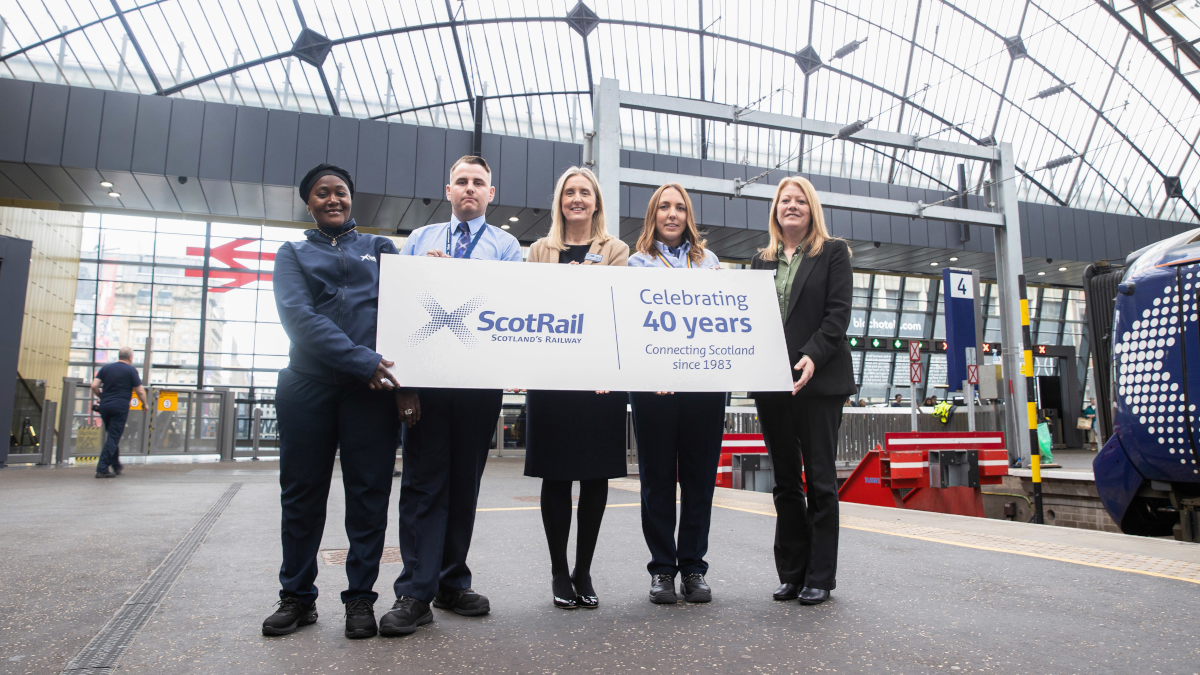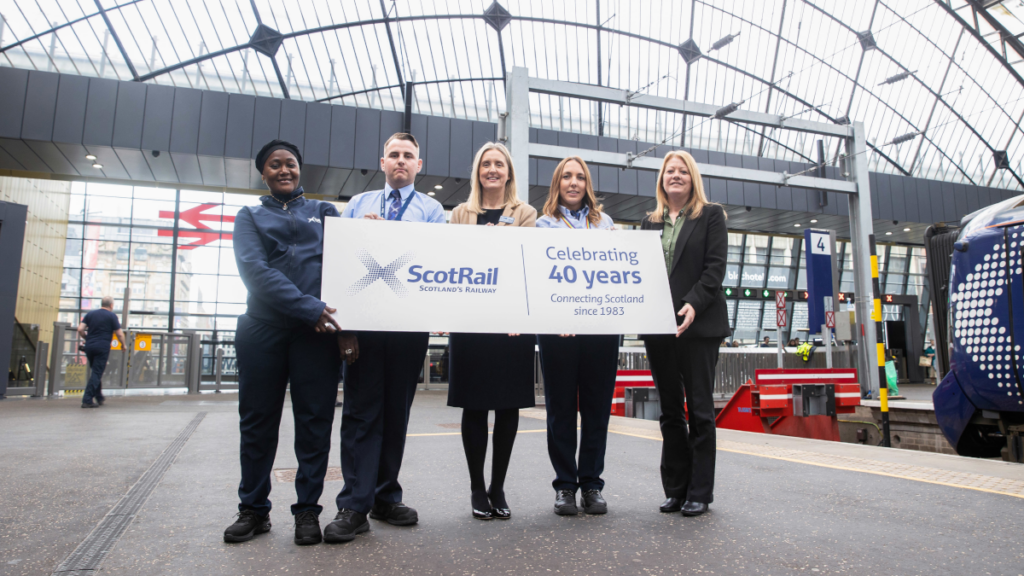 An impressive 81 new or reopened stations have been added – 50 of those were introduced in the first 10 years, starting with Auchinleck and Kilmaurs in 1984. More recently, working with infrastructure operator Network Rail, Reston station was added in 2022, with Inverness Airport station opening in February 2023, bringing the total number of stations in Scotland to an impressive 359.
Many of ScotRail's stations have been transformed, with some undergoing spectacular renovations, including the redevelopment of Haymarket and the £120 million transformation of Glasgow Queen Street.
Scotland's Railway has seen the reconstruction of four disused or abandoned railway lines, significantly expanding the rail network.
With no Sunday service on many routes in 1983, and the only electric services operating in parts of Strathclyde, the timetable looked very different. However, the railway's electrification and modernisation efforts reached Ayrshire in 1986 and North Berwick in 1991. Since 2010, these efforts expanded to encompass all routes between Edinburgh and Glasgow, creating a more efficient, reliable, and green railway.
With electrification came the introduction of new trains, including brand-new Class 380s in 2010 and the Class 385s in 2018, in addition to diesel Class 156s, 158s, and 170s.
Over the years, customers have witnessed a modernisation of ScotRail's services, including the introduction of self-service ticket vending machines, online ticket retailing, and the convenience of mTickets.
Customers have also benefited from better travel information with the introduction of on-train and at-station information screens, social media updates, and improved security measures. The rollout of 24-hour CCTV and Help Points has contributed to the safety and peace of mind of passengers.
Joanne Maguire, ScotRail's chief operating officer, said: "We're delighted to celebrate ScotRail's 40th birthday, recognising our role in connecting the people of Scotland.
"If you arrive at any station in Scotland, you'll be greeted by the iconic ScotRail brand, and the world-famous Saltire on our trains.
"The past 40 years have been remarkable, with the introduction of new stations, new trains, reopening of disused railway lines, and the modernisation of the services available to customers.
"Of course, there have been challenges on a network that runs from Thurso to Carlisle, but the future holds even greater promise with further growth as we continue to innovate and improve our services.
"As we celebrate this milestone, we renew our commitment to delivering a safe, reliable, and green railway for our customers.
"We thank our loyal customers for their support and look forward to serving the people of Scotland, and beyond, for many more years to come."
Image credit: ScotRail