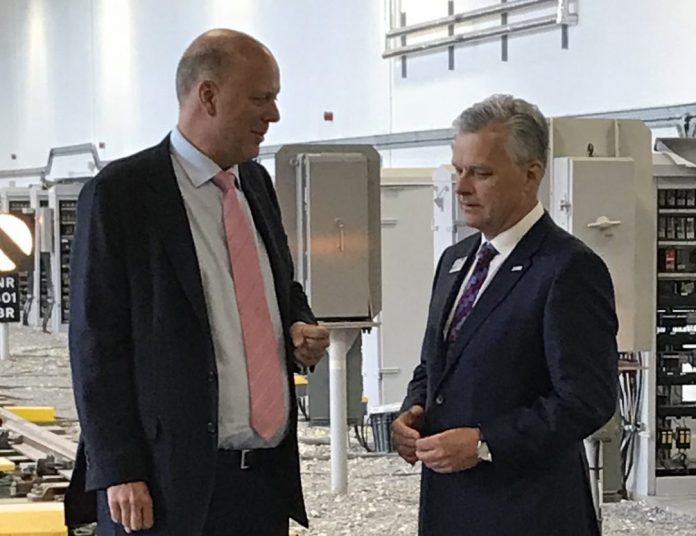 UK transport secretary Chris Grayling and Network Rail CEO Mark Carne have launched the infrastructure company's Digital Rail Strategy, committing to ensuring all new trains and signalling are digital or digital ready from 2019.
The introduction of new digital technology will: allow more trains to run per hour by running trains closer together; cut delays by allowing trains to get moving more rapidly after disruptions; and enable improved mobile and wi-fi connectivity.
The Digital Railway Strategy was launched in York, on the Transpennine route, which Chris Grayling wants to be the country's first digitally controlled intercity railway.
The government has earmarked £5 million for Network Rail to develop proposals for embedding digital technology between Manchester and York, as part of the £3 billion upgrade of that route starting next year.
The technology will be fully operational from 2019 on the Thameslink service, which will see 24 trains pass through every hour.
---
Like this story? Follow us on Facebook to keep up to date with rail industry news
---
Crossrail will use in-cab signalling to deliver more trains and seats east-west through London.
Digital rail technology will also ensure the best use is made of the almost £48 billion being invested in maintenance, modernisation and renewal on the network between 2019-2024, which includes new and replacement signalling. The government has also earmarked £450 million specifically for digital railway schemes.
Transport secretary Chris Grayling said: "Investing in a railway fit for the twenty-first century will help the UK become a world leader in rail technology, boosting exports and skills. As we celebrate the Year of Engineering, this is a chance to show young people how digital innovation is opening doors to careers that will shape the future of travel."
Mark Carne added: "Not since the railway transformed from steam to diesel in the 1960s has a technological breakthrough held such promise to vastly improve our railway for the benefit of the millions of people and businesses who rely on it every day.
"The age of a digital railway has today moved from the drawing board and into reality as we reveal a blueprint that will improve the lives of millions of passengers and freight users across the country.
"Today's commitment is to adopt and roll-out new digital technology, for both trains and track, that will deliver faster more frequent services for passengers and businesses alike, giving our economy a massive boost."
---
Read more: Siemens to equip ETCS to Százhalombatta-Pusztaszabolcs line in Hungary
---