The Railway Industry Association (RIA) and Women in Rail (WR) are launching the second Annual Report for their joint EDI (Equality, Diversity & Inclusion) Charter for Rail.
The 2023 Annual Report sets out examples of good practice and celebrates the very best work carried out by Charter signatories over the last year. Submissions to the Report come from over 40 organisations, including the DfT, British Transport Police, Network Rail, Arcadis, AtkinsRealis, East Midlands Railway and more.
The Report showcases best practice in how to develop an inclusive culture in modern, dynamic rail organisations. Launched in November 2020, the EDI Charter for Rail now boasts over 220 signatories from across the UK rail industry.
The Report will be formally launched at an event at 17:30 on Thursday 12 October at the RIA Offices, London, with a keynote address from Jacqueline Starr, Rail Delivery Group Chief Executive.
Darren Caplan, RIA chief executive, said: "The Railway Industry Association and Women in Rail are proud to be collaborating on our joint EDI Charter for rail to support rail organisations looking to enhance their work to improve Equality, Diversity & Inclusion.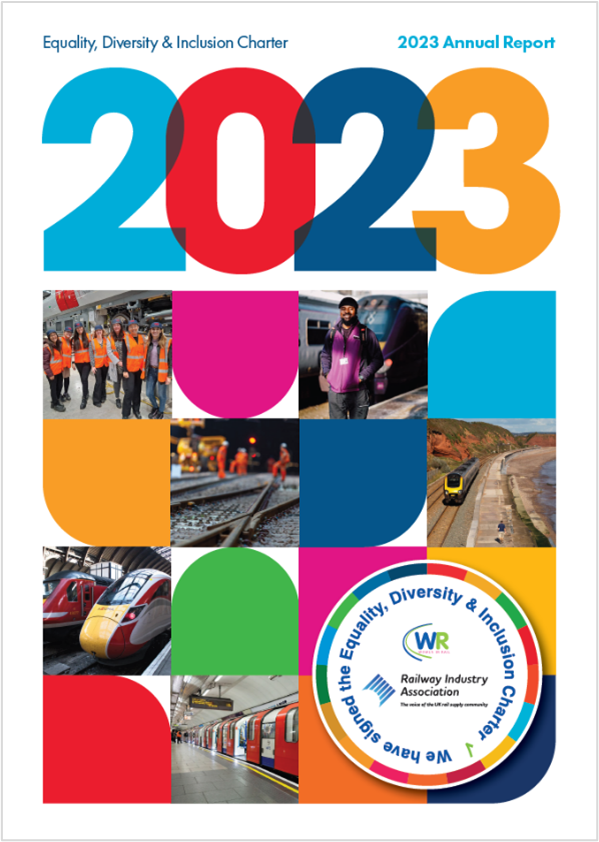 "With over 200 rail organisations and businesses now signed up to the Charter, this Annual Report showcases the excellent work carried out by organisations across the sector. It showcases the fantastic efforts of suppliers, rail clients and the DfT to ensure their employees are valued and included, to make their organisations even more effective, and to continue to attract and retain diverse talent into the industry. We now look forward to the fourth year of the EDI Charter, with many more organisations signing the Charter and even more great work being done!"
Shona Clive, vice chair of Women in Rail, said: "Thank you to everyone who has contributed to this year's EDI Charter annual report, highlighting the great work some of our signatory companies are doing to help build a more diverse and inclusive rail sector. We are proud to partner with the Railway Industry Association on this key initiative and are really pleased to see the work of the EDI Charter Working Group growing from strength to strength. All of our work at Women in Rail is about raising the awareness of the need for greater EDI and gender balance across the sector, where everyone has an equal opportunity to thrive."
Mandeep Singh, chair of the EDI Charter Working Group, said: "It has been wonderful to continue the work of the EDI Charter this year, and with more companies continuing to sign up it shows that there is real passion for change around Equality, Diversity & Inclusion across the industry. Sharing best practices is essential for progress, and we recognise that every step forward is an opportunity to learn from one another. By promoting and implementing effective EDI strategies through initiatives like this Annual Report, we can set a shining example for our industry and beyond. We look forward to seeing what the next year brings for the Charter and our signatories."
Every charter signatory commits to inclusive practices, such as:
Appointing a member of the senior leadership team as an 'EDI Champion';
Agreeing an action plan, monitoring and reporting on progress made;
Providing opportunities for training and education for employees, supporting the progression of diverse individuals into senior roles to improve diverse representation at senior and executive level;
Creating a culture which fosters inclusion and providing space for all employees to talk openly, including at industry events and in meetings; and
Making recruitment and progression processes accessible to all, to attract, retain and develop people of all backgrounds, ages, genders and identities.
The full report can be viewed here.
Image credit: iStockphoto.com / RIA