HS2 has today updated the shortlist of bidders for the £2.75 billion contract to build at least 54 'conventional compatible' trains for Britain's new high-speed line.
To put that figure into perspective, Bombardier's train contract for Crossrail was for £1 billion, Siemens' Thameslink order with the British government was for £1.6 billion and its recent award from Transport for London for a new generation of Tube trains was for £1.5 billion.
The five bidders have various footprints in the UK, from long legacies of orders and jobs to one which has only recently begun the search for a potential site, but every one will be hoping to outdo the competition.
As they work to finalise their bids ahead of the formal tender process starting later this year, Global Rail News takes a look at the capacity and capability of each of the companies to fulfil one of Britain's most lucrative train contracts.
---
Looking for a new job in the UK rail industry? Click here to begin your journey.
---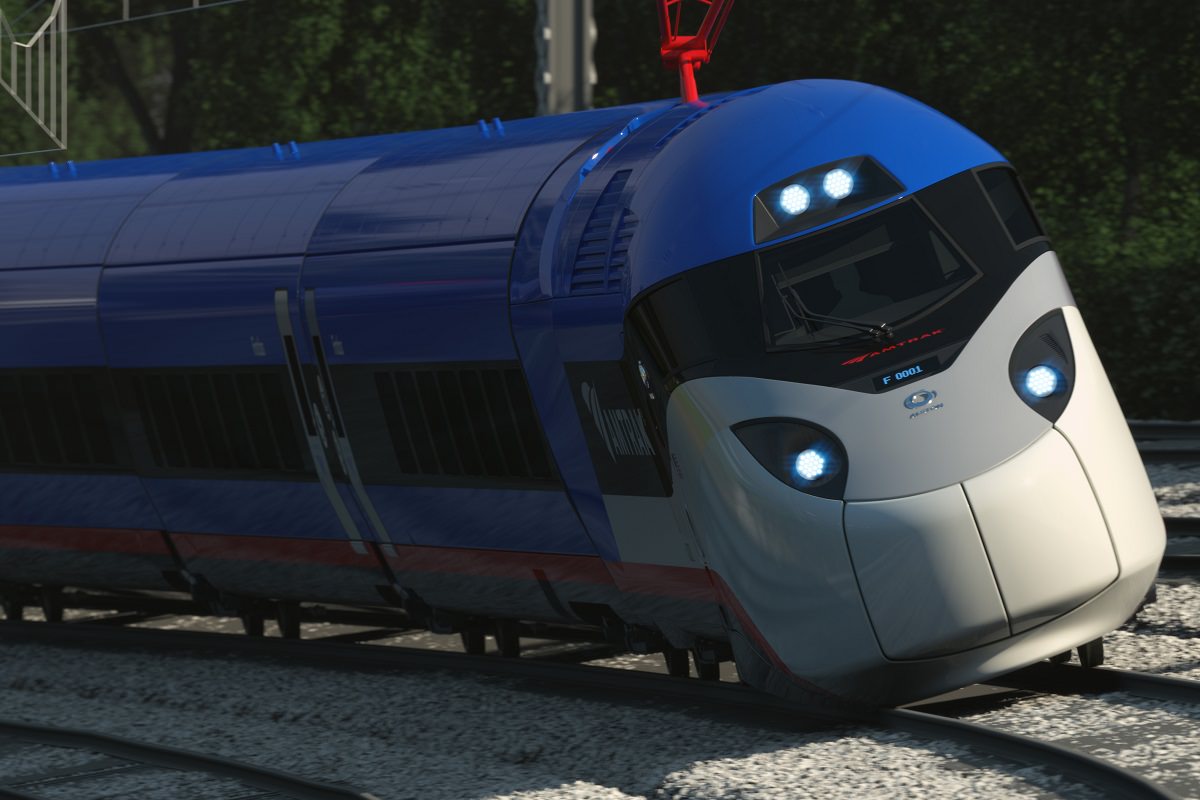 Alstom Transport
The French firm opened its train modernisation centre in Widnes, Chesire, in June 2017. The 13,000m² site has been described as the largest rolling stock modernisation facility in the country and is currently working through a €28 million (around £24.6 million) contract to repaint a fleet of 56 Pendolino trains for Virgin Trains. The site is also the location of the company's rail academy.
At the time of the opening, Alstom's senior vice-president, Gian-Luca Erbacci, said that the company has committed to building new trains at Widnes should it win contracts, giving the example of Transport for London's Deep Tube Programme.
Reacting to the HS2 train-building shortlist, Alstom UK & Ireland's managing director, Nick Crossfield, said that the company will use Widnes to train a new generation of apprentices to support the project, but has so far not clarified whether high-speed trains would be built there. He added that it would work with the UK supply chain to "create a sustainable long-term legacy of growth and opportunity".
Nick also noted that Alstom has the widest range of high-speed trains on the market. It currently manufactures four types: the Pendolino, which travels up to 250km/h; Euroduplex, a double-deck very-high-speed train with a maximum speed of 320km/h; Avelia Liberty, capable of speeds of up to 350km/h; and AGV, another very-high-speed train with operational speeds of up to 360km/h.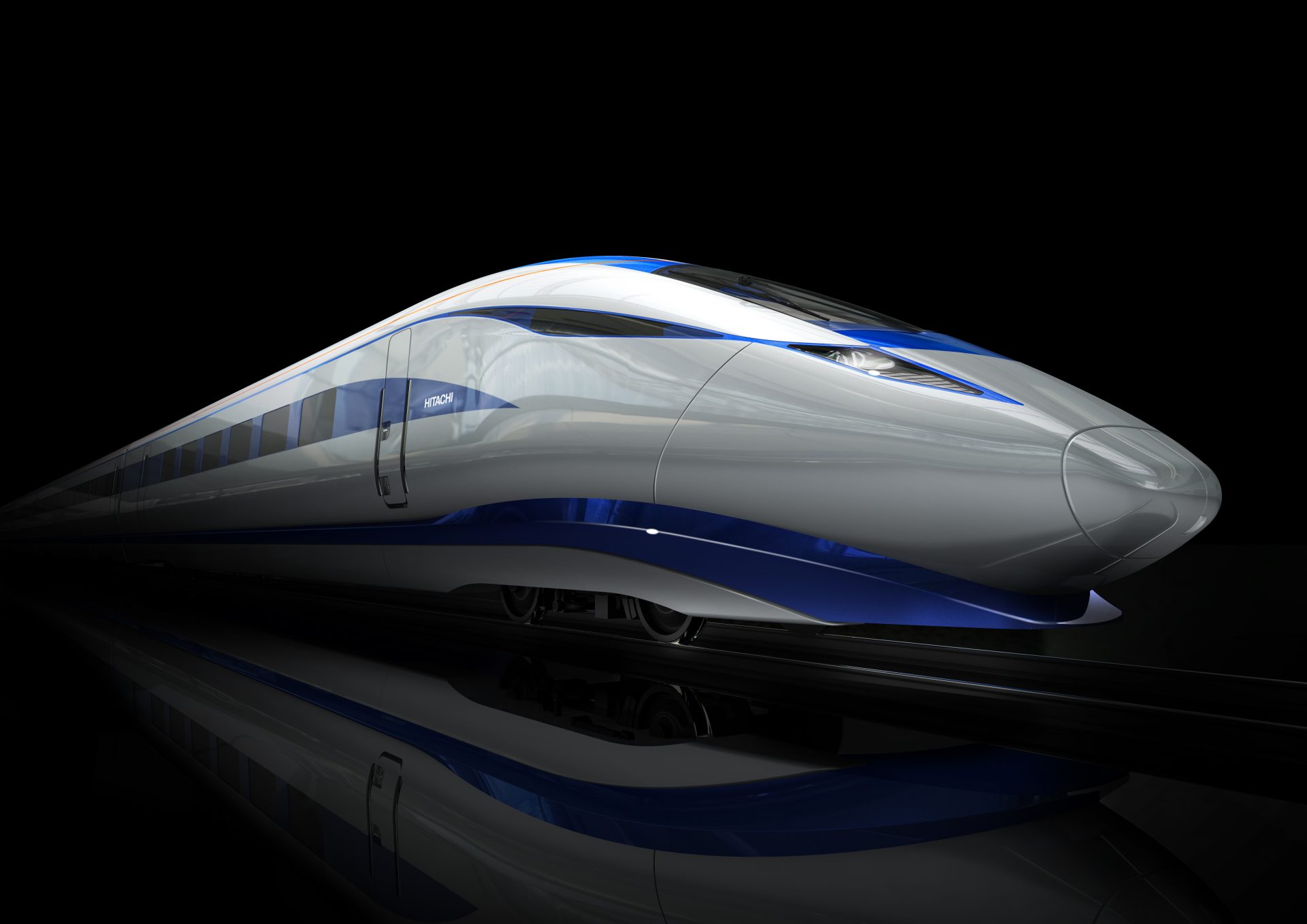 Bombardier Transportation-Hitachi Rail Europe JV
The two manufacturers originally submitted – and were shortlisted for – separate bids but announced they would form a joint venture in July, 2018, to deliver a "Spitfire for the British railway".
From its 340,000m² base in Derby, Bombardier is in the unique position of being able to design, develop, build and maintain trains in the UK – although it has never designed and built a high-speed train in the country. The Canadian company currently has an order book of more than 1,500 vehicles, largely from the Aventra family.
Bombardier has been involved in a number of high-speed trains but its latest family of high-speed and very-high-speed trains is the Zefiro platform (pictured above), which is capable of speeds of up to 380km/h. Bombardier Transportation has taken lessons learnt from its aerospace division to influence the train's aerodynamic design and improve performance.
The Class 395 Javelin, based on Shinkansen technology with a maximum speed of 225km/h, became the first domestic high-speed passenger train in the UK when it was built by Hitachi for HS1. That order was the Japanese train manufacturer's first order in the country and launched the beginning of Hitachi's ever-growing presence.
Part of Hitachi's Intercity Express Programme contract with the government included the  construction of a manufacturing and assembly plant in Newton Aycliffe, County Durham. Built in 2015, the 127,500m² site has the capacity to build metro, commuter and high-speed trains with a maximum output of 35 vehicles a month, according to Hitachi.
Moving ahead, Hitachi is developing a new very-high-speed train product for the European market place, the AT400, also known as "the British Bullet train".
Hitachi Rail managing director Karen Boswell said: "By joining together in partnership with Bombardier, we will draw on a huge wealth of UK experience and the best in modern technology – including our pioneering 'bullet train' experience. Our aim is to deliver a new British icon that will be recognised around the world – a Spitfire for the British railway."
Construcciones y Auxiliar de Ferrocarriles
CAF is currently building a £30 million train production plant in Newport, Wales, to build trams, suburban, inter-city and high-speed trains. Construction is scheduled for completion in autumn, 2018.
The Oaris is the Spanish manufacturer's latest generation of very-high-speed train. It is capable of reaching speeds of up to 350km/h and has a flexible interior layout, to vary the seating capacity and services according to requirements. The modular train is available in four, six and eight-cat configurations.
CAF UK director Richard Garner said: "We are extremely pleased to be included in the HS2's procurement programme. Our Oaris high-speed trains use the latest technology offering high-speed travel which is comfortable, safe and provides digital connectivity to facilitate the busy world that we live in.
"The new high-speed trains will meet the highest international standards for passenger experience, noise reduction, and environmental sustainability."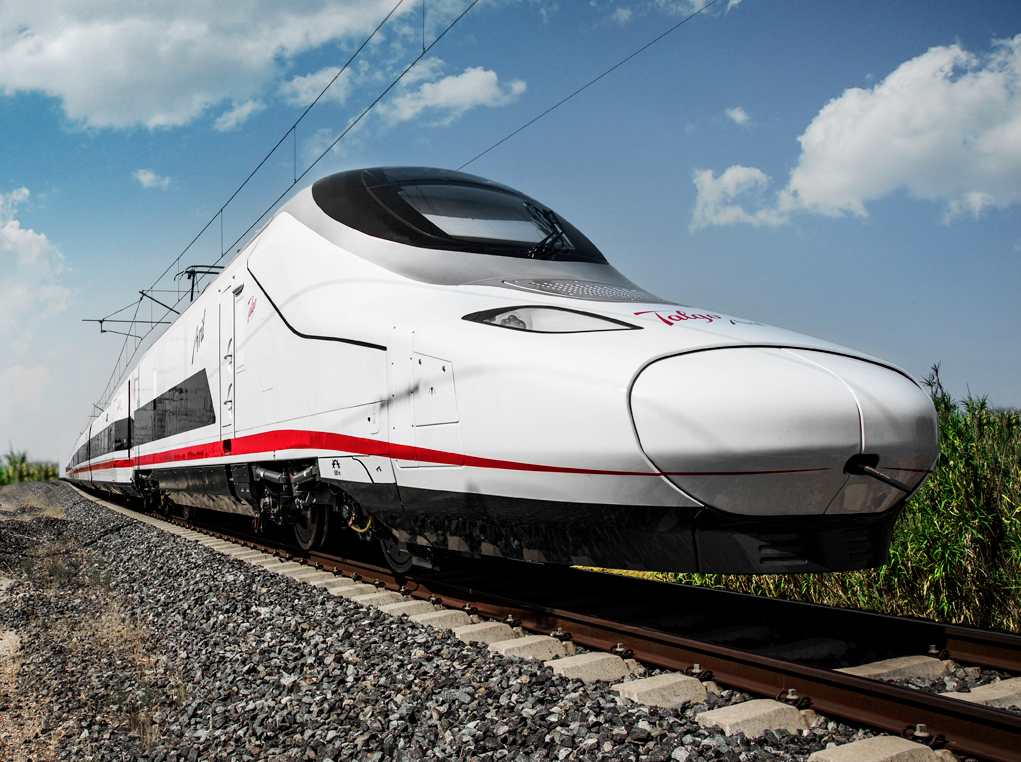 Talgo
Back in October, 2017, the Spanish firm announced that it was looking at potential sites to build a factory in the UK, and has since scouted locations in Leeds, Liverpool, Wales and in Scotland. Talgo has said it intends to implement a long-term industrial plan in the UK to carry out the whole train manufacturing process in the country, with a local supply chain, should it successfully secure contracts in the UK.
Talgo has two products in its very-high-speed range of trains, the Avril and the 350. Talgo says that the Avril is the widest such train in the European market and has a maximum operating speed of 330km/h, and the 350 is also capable of operating speeds of up to 330km/h.
Following the announcement, Talgo's UK manager Jon Veitch said: "Talgo will work to offer the fastest trains, more respectful with the environment and more comfortable with the best value for money. We believe that our trains will bring innovation and efficiency unprecedented to the UK market."
He added: "Talgo will help regenerate the industrial base of the British country. We are committed to opening a factory in the United Kingdom if we win this important contract that will provide up to 1,000 new local jobs for engineering and innovation work, as well as other support positions needed in any industrial area. In addition, Talgo will seek to collaborate with suppliers and use the experience of the whole United Kingdom. Talgo's plans also include important learning, training and education opportunities in England, Scotland and Wales. "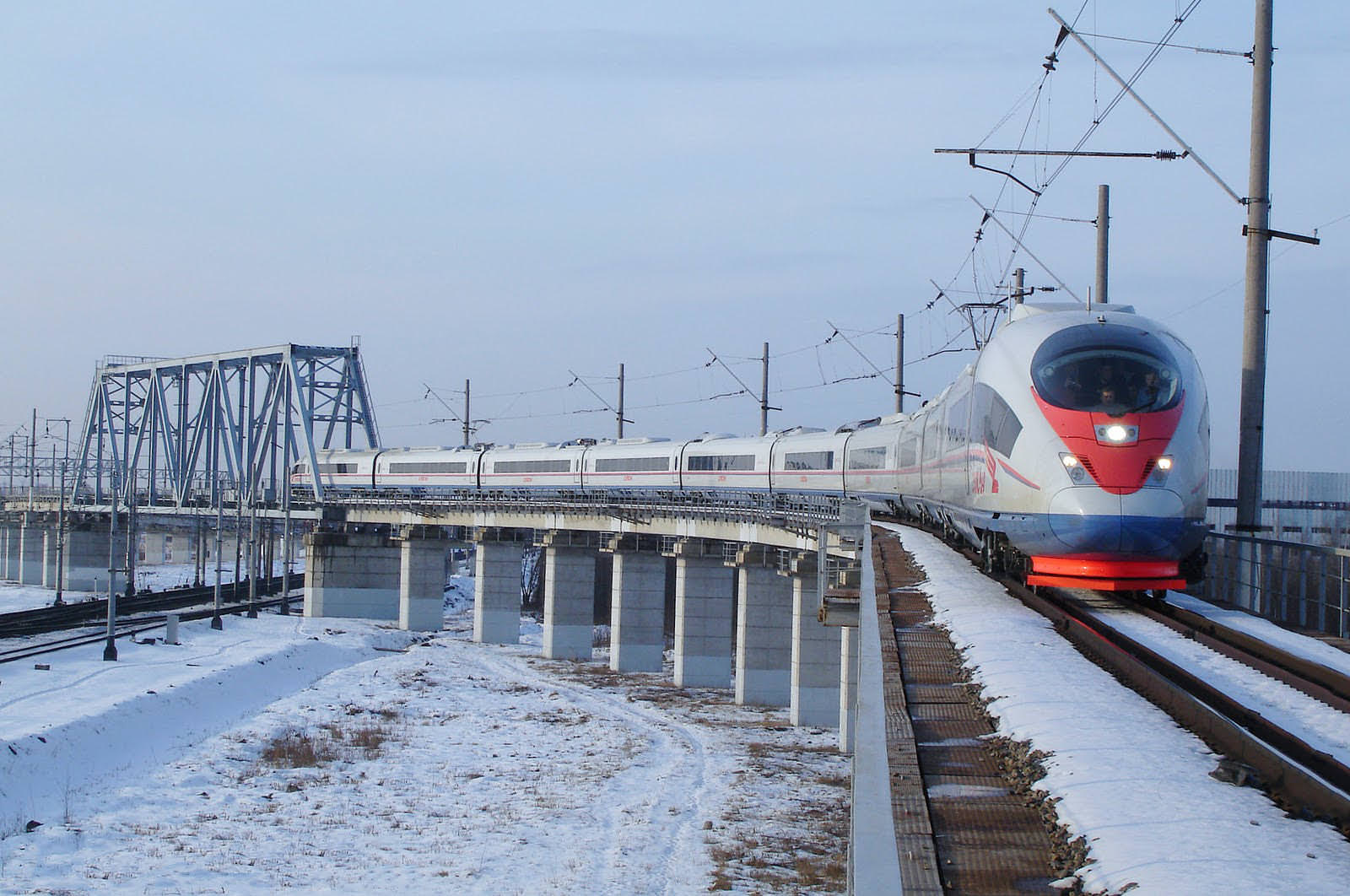 Siemens
While Siemens has a sizeable footprint in the UK, it doesn't currently have the facilities to manufacture trains in the country. No confirmation was initially made as to where the trains would be built when the shortlist was first published but Siemens have since revealed plans to build a train manufacturing facility in Goole, Yorkshire, should it secure "major future orders".
In addition, the confirmed merger with Alstom could also solve that problem should the two pool resources. The new platform has been designed for speeds of 250-360km/h and will be 30 per cent more energy-efficient than its previous Velaro models.
Siemens has two families of high-speed trains: the Velaro, which currently runs on the Eurostar services between Paris and London at speeds of up to 320km/h; and the ICE 4, a new platform for Deutsche Bahn which has a top speed of 250km/h.
It also recently announced a new high-speed train concept, Velaro Novo, ahead of this year's InnoTrans exhibition.
Following HS2's announcement, Siemens UK's HS2 bid director Jo Hensher said the contract was a "fantastic opportunity to participate in one of the world's most prestigious and high-profile infrastructure projects". She added: "Based on our extensive experience of building very-high-speed trains – including for Russia, Spain, China, Germany and most recently for Eurostar in the UK – we know that this project holds enormous transformative potential for the UK economy."
This article has been updated to reflect the joint-venture formed between Bombardier and Hitachi and the addition of CAF to the shortlist.
---
Read more: UK rolling stock strategy – diesel, bi-mode and fuel cell-powered trains
---