A bright day for Florida and an even brighter one for rail transport in the United States.
January 13 marked the long-awaited launch of Brightline, the country's first privately-owned passenger train service since the 1980s.
Initially, the line will connect passengers from Fort Lauderdale to West Palm Beach in around 40 minutes, making use of the existing Florida East Coast Railway. Tickets cost either $10 for a smart service ticket or $15 for a select service ticket – which comes with seats that are two inches wider, complimentary drinks and snacks and access to a premium station lounge.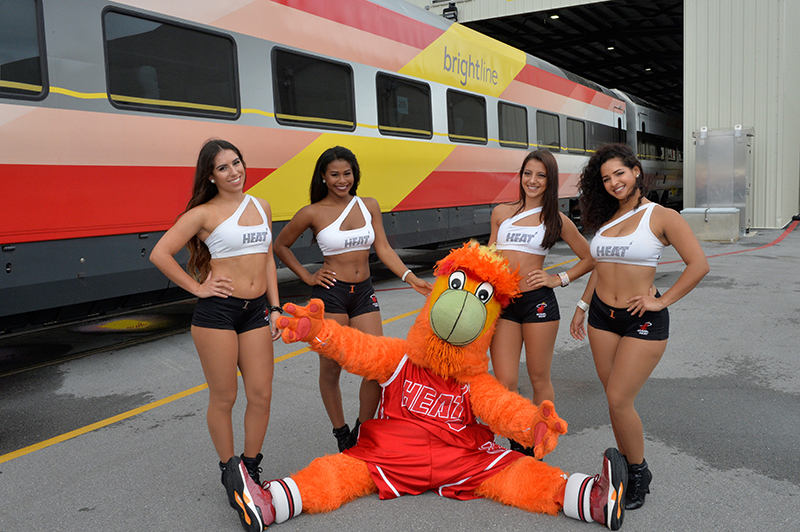 But connecting the two cities quicker than a journey by car isn't the main selling point for what Brightline president, Patrick Goddard, describes as a "game-changing" service.
Free wi-fi, charging points, reclining seats, e-tickets, spacious aisles, leather seats, retractable gap fillers and baggage attendants. Brightline promises to set a "new benchmark" for train travel by concentrating on comfort and convenience to encourage motorists to ditch their cars for a mode of transport which currently plays a limited role in the nation's transport network.
Its plans are big and bold – a stretch to Miami is due to open in 2018 and plans are well underway for an extension to Orlando – and so is Brightline's brand with an eye-catching fleet of pink, red, orange, green and blue carriages as well as showcase partners such as Pepsi and the NBA's Miami Heat.
---
Like this story? Follow us on Facebook to keep up to date on rail industry news
---
Take a close up look at one of Brightline's trainsets, which have been built by Siemens in Sacramento, in the video above.
The project began in mid-2014. Construction of Fort Launderdale and West Palm Beach stations was undertaken by Moss & Associates and Miami station is being built by Suffolk Construction. Work on modernising the existing 66-mile stretch of railway between Miami and West Palm Beach – as well as the construction of a new train maintenance depot – has been managed by Archer Western. This included work on 185 level crossings, re-signalling and track work.
Siemens was chosen to supply the service's rolling stock, which can achieve speeds of up to 125mph. As well as 30 years of service and maintenance, the deal included the delivery of five trainsets, which are made up of two diesel-electric Charger locomotives and four carriages.
In total, it is estimated that around $3 billion has been privately invested in the project and groups from around the country will be looking on with keen interest to see just how successful the country's only privately-owned and operated railway can be.
However, Brightline's launch did not come without controversy. With trains passing along the Florida East Coast Railway at higher speeds than what the public are used to, Brightline launched a campaign to raise awareness on rail safety. Nevertheless, according to local media, there have been three fatalities on Brightline's railway – one of which occurred the night before the service officially launched. Local police officers said that the pedestrian climbed underneath a level crossing barrier and attempted to cross ahead of a train. Brightline has said that safety is its number one priority.
With future openings in the pipeline, the failure of Brightline isn't an option for developer All Aboard Florida – a subsidiary of Florida East Coast Industries. In the run up to the service's opening – and "overwhelming excitement" from booking passengers – Brightline's website experienced a few glitches.
While some would say it was a bad way to start, you could argue the contrary. If the public caused the website to crash because of an overload of traffic, that level of excitement and interest can only be a good sign. Only time will tell.
In the meanwhile, next stop: Miami.
Exterior and interior shots of Brightline's fleet of trains.
---
Read more: Investigators release initial report into Washington train derailment
---