Transport for London (TfL), in partnership with the Rail Delivery Group (RDG), British Transport Police (BTP), Metropolitan Police Service (MPS) and City of London Police has launched a new campaign to encourage a culture of active bystanders on public transport.
Through the campaign, TfL hopes to inspire Londoners to look out for others by learning to recognise the signs of sexual harassment, offering support to a person who has been targeted, and reporting any incidents.
The safety of women and girls is an absolute priority for TfL and this new campaign is one aspect of TfL's work to ensure everyone is safe and can travel with confidence. It builds on efforts by TfL and the police to tackle sexual harassment, with last year's campaign highlighting various forms of sexual harassment that can take place on public transport and sending a strong message to offenders that this behaviour is not tolerated on TfL's services.
TfL's new campaign sets out clear guidance for customers on how they can safely intervene if they witness sexual harassment. The following actions are highlighted by the campaign as ways customers can help, but only if they feel safe to do so:
Make a distraction: Customers can help defuse an incident of sexual harassment by asking the person being targeted a simple question, such as "What's the next stop?", or "Do you have the time?"  
Make a note: If you see sexual harassment happening, documenting and reporting it can help build a profile of the perpetrator and help TfL and the police stop it from happening again.
Make sure they are okay: Following an incident of sexual harassment, the offer of support from a fellow customer can help the person targeted feel less isolated and more confident in reporting it. Check in with the person targeted and ask "Are you OK?", or let them know that "What happened isn't OK."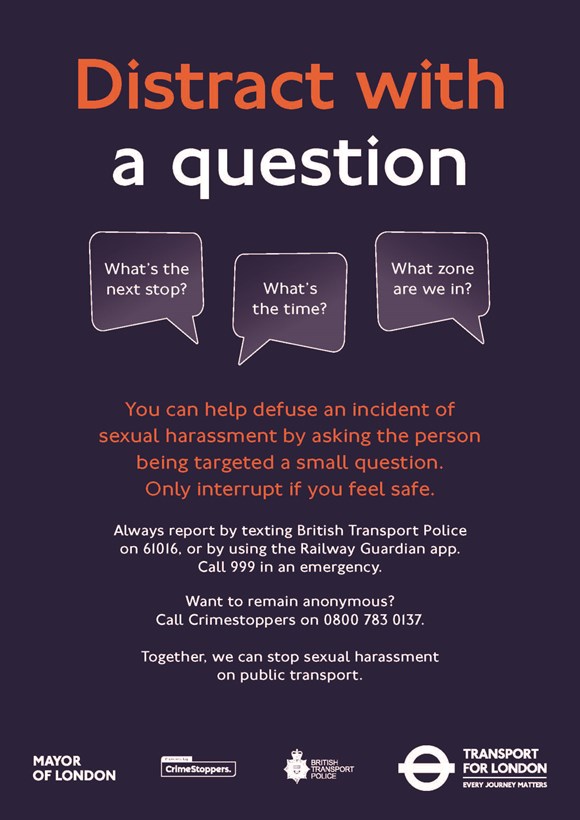 The advertising campaign, which will appear on buses and trains and at stops and stations, encourages customers to report incidents wherever possible on the bus network at met.police.uk or, for all other TfL services, text British Transport Police on 61016 or via the free BTP Railway Guardian app. Alternatively, people can contact Crimestoppers, and should always call 999 in an emergency.
TfL is not asking customers to police the network. Its measures to keep everyone safe on the network include more than 2,500 police and police community support officers and 500 TfL enforcement officers on patrol, along with thousands of frontline transport workers, trained to support victims of sexual harassment present across the network, in addition to an extensive CCTV network. The police also carry out targeted policing and investigation activity to identify and apprehend sexual offenders.
Transport staff are specially trained in how to support members of the public, and if they witness or are made aware of a serious incident, they will alert TfL's 24/7 control centres and seek advice and support. They can also help customers report incidents to the police, if that is what they want to do.
Sexual harassment training is currently being rolled out to all TfL frontline staff, in line with training already received by enforcement and bus operations teams. Advice and guidance are also given to frontline teams, travel ambassadors and colleagues across TfL on how to handle reports sensitively and with compassion, and reporting protocols.
Nia Mellor, British Transport Police Detective Chief Inspector, said: "We are dedicated to ensuring every woman and girl can travel on the railway network without fear of harassment. Everyone has a part to play in driving out this unacceptable behaviour, and small actions such as offering someone your seat if you notice them looking uncomfortable, or reporting an incident to us can make an enormous difference.
"Your reports provide us with crucial information which helps us build a picture of what's happening on the network so we can identify crime hotspots, deploy patrols to catch offenders, and crucially bring them to justice.
"As always, our officers are out across the network day and night looking out for you. Report anything to us by texting 61016 or via the Railway Guardian app."
Image credit: istockphoto.com / TfL