It's back to business! As restrictions are gradually lifted and the railway returns to a more normal service it is important to consider the risks posed by these changes and what we can do to help manage them.
The railway has been a very different place over the last year. As positive steps are taken towards lifting restrictions there will be some changes that increase safety risks. One such change is the expected uplift to the timetable which poses SPAD risks for drivers on all parts of the network.
The risks and strategies to help manage SPADs are presented in a new series of posters called the 'Stepping Up SPAD Focus'. We have also produced a short guide to support you in rolling out the poster campaign. The guide provides more information on these risks and includes potential strategies to help manage them.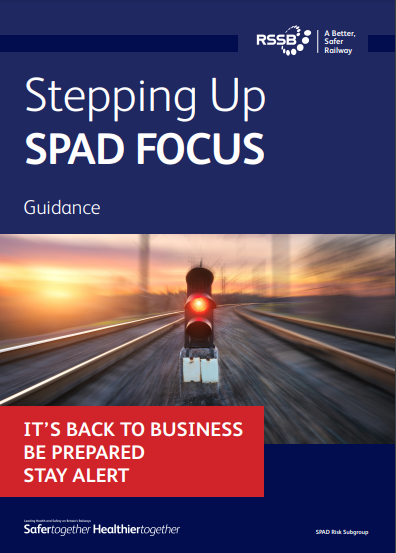 The aim is for individuals and rail companies to identify the risks that they need to focus and to use the relevant posters for those risks.
There are seven posters, each focusing on different risks. The posters are available to print in A4 and A3 size and provide a section at the bottom for you to customise with your company's branding. These can be distributed and displayed in staff areas or used electronically on staff devices.
The posters include: