The annual Advance TRS Golf Day for Rail Aid returned to The Belfry in Birmingham for the second year running on Thursday 29 September.
Unlike the torrential weather and storms of 2021, this years' golfer enjoyed 18-degree sunshine as they competed for charity. There were 19 fourballs in total, all sent out in buggies for a shotgun start at midday. Prizes to be won involved competitions like Beat the Pro, Furthest Drive, individual Stableford, and Team Stablefords.
THE EVENING – SPEAKERS & REWARDS
After a great day of golf, attendees enjoyed a three-course dinner, a presentation from Dave Ellis of Railway Children, and a speech from special guest Kriss Akabusi. Kriss rose to fame on the athletics track. His greatest individual triumph was winning the gold medal in the 1990 European Championships, and he is now a motivational speaker and TV personality.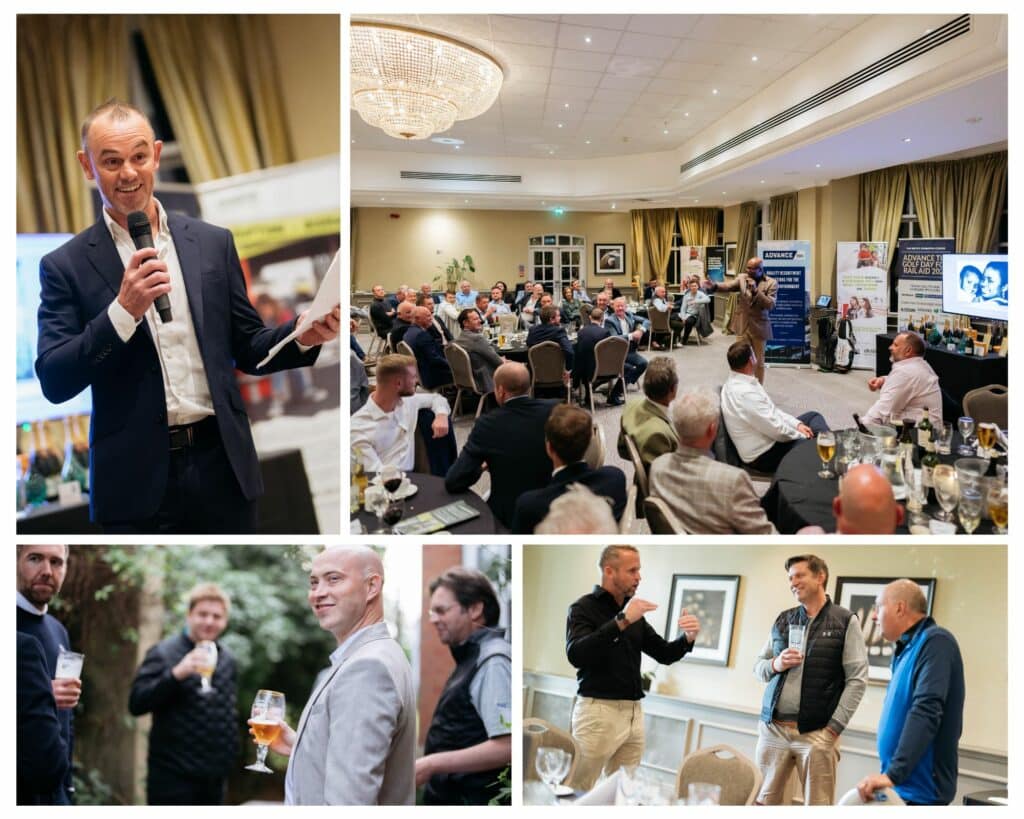 The evening was completed with a much-anticipated finale involving Golf Awards, Prize Giving, and a Charity Auction.
Last year, Advance TRS raised £20,000 for Rail Aid, which it was very keen to beat on its return in 2022. With outstanding prizes to win, complimented by a wide selection of amazing experiences in a charity auction, the company overcame expectations and raised a magnificent £23,395.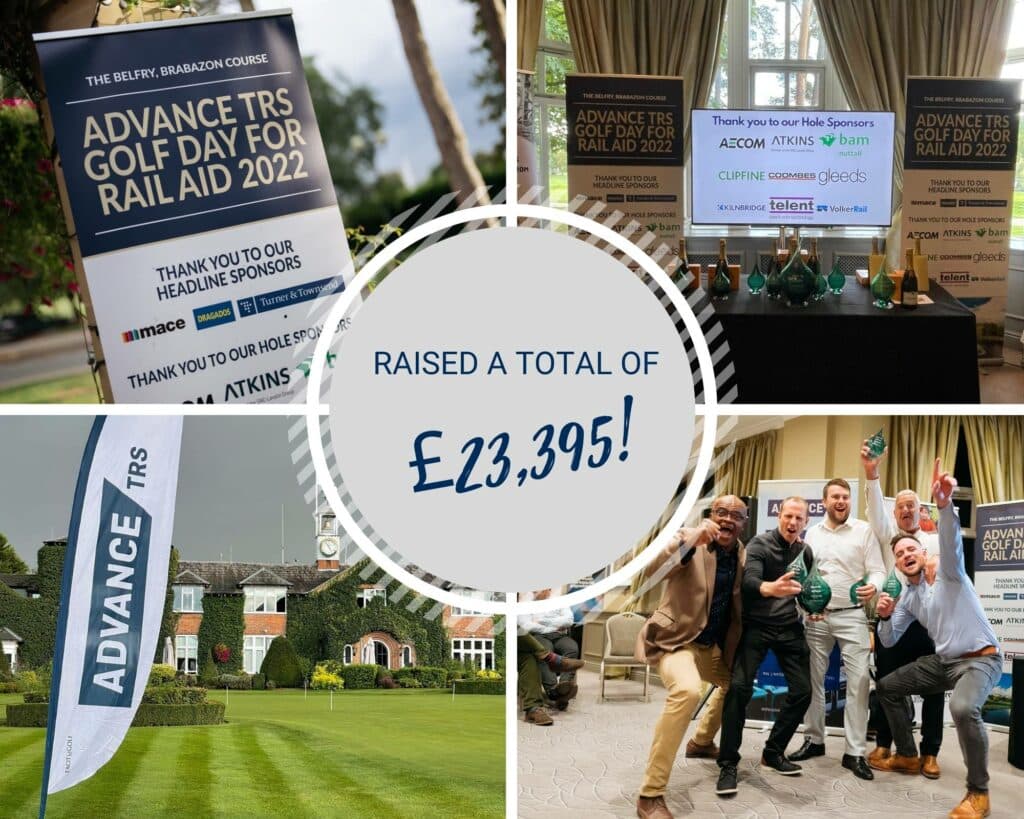 Advance TRS Founder & Managing Director Andy Ridout said:
"We are ecstatic about achieving their milestone and are extremely excited to have raised so much for such an incredible cause. Thank you to our partner sponsors for their continued support and all who joined us on the day, especially those who bid on the auction prizes and helped push up our fundraising total."
Advance TRS gave a very special thank you to partner sponsors, MACE Dragados and Turner and Townsend for their continued support of the event and also to the event's generous hole sponsors: Aecom, Atkins, BAM Nuttall, Clipfine, Coombes, Gleeds, Kilnbridge, Telent and Volker Rail.
Dave Ellis, Corporate Partnerships Manager at Railway Children said:
"Wow, where do you start after a day like that… and there were times during the Advance TRS Golf Day for Rail Aid, where I genuinely took a moment to look around and really did feel incredibly humbled.
When you put into context that the £23,395 raised from the day could fund one of Railway Children's Open Shelters in India for almost an entire year, that is true impact and where the value of the day really becomes evident."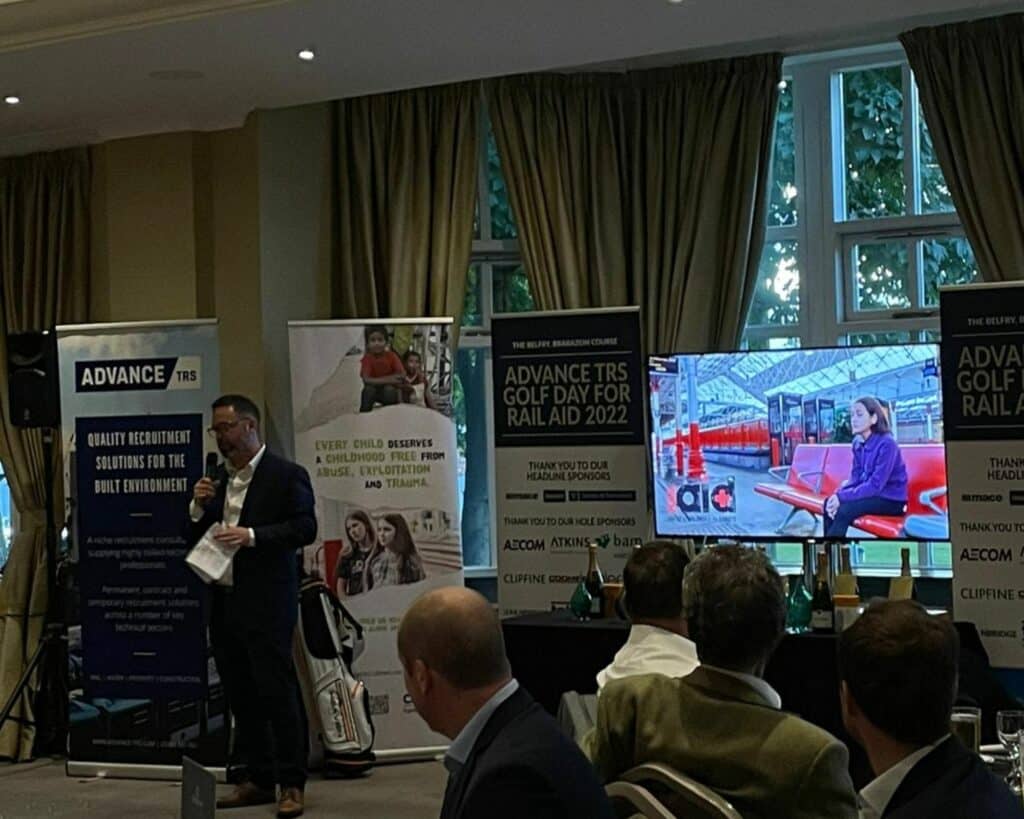 Children run away or are forced to leave homes where they suffer poverty, violence, abuse, and neglect. They find themselves living on the streets because there is nowhere else to go and nobody to turn to. Railway Children works to reach children as soon as they arrive on the streets and intervene before an abuser can.
Rail Aid, is a major fundraising initiative in support of Railway Children, the Rail industry's charity. Dubbed 'the railway's answer to Children In Need', Rail Aid was conceived and realised in direct response to the Covid-19 outbreak and will raise critical funds for Railway Children's work with vulnerable young people at a time when many of the charity's biggest fundraisers have been cancelled.
This October Advance TRS Director of Client Services & Rail Signalling, Sam Jennings will be taking part in Railway Children's Ride Vietnam Challenge. As a novice cyclist, Sam will confront a challenging 450km cycle over seven days in 30-degree heat!